During my final day at Tales of the Cocktail, I attended the "Kraken Rum Invites You to Step into The Dark Party" at the Napoleon House. This event was one of the most unique experiences that I had during my time at the event. It was the perfect theme for an evening in New Orleans. Legend has it that ghosts and spirits fill the historic streets and buildings.
The Kraken Rum Legend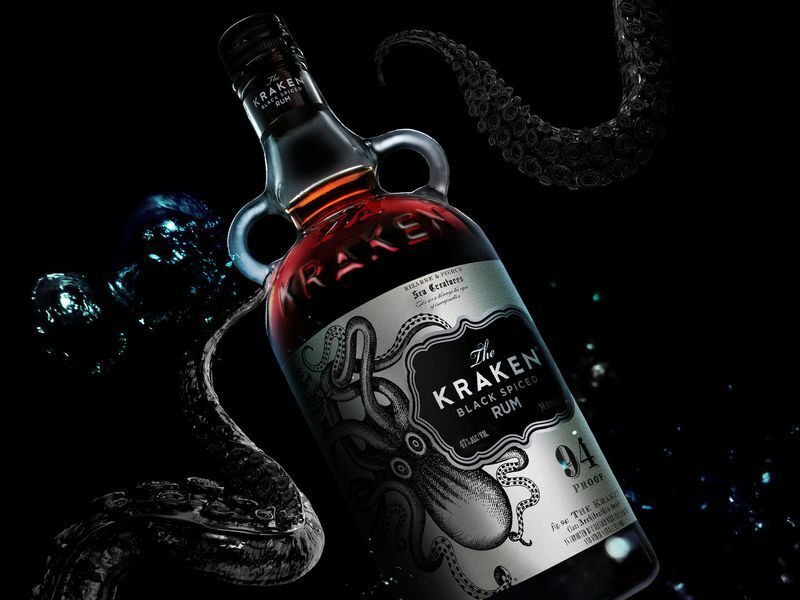 The Kraken Black Spiced rum is a 94-proof alcoholic spirit that packs a significantly higher proof than other spiced rums. Expect high-octane flavors of dark chocolate, burnt caramel and cinnamon. The cool bottles and labels make it an art piece to add to anyone's liquor shelf.
Legend has it that a ship carrying spiced rum from the Caribbean was attacked by a monstrous Kraken. The Beast thrust its massive limbs upon the ship plunging the vessel and the men on board into impenetrable darkness.
All of the barrels of rum were destroyed except one, which was badly stained by the squid's black ink. It was dubbed "The Kraken Rum." It is now known as a liquid of unparalleled darkness.
Dining in the Dark with Kraken Rum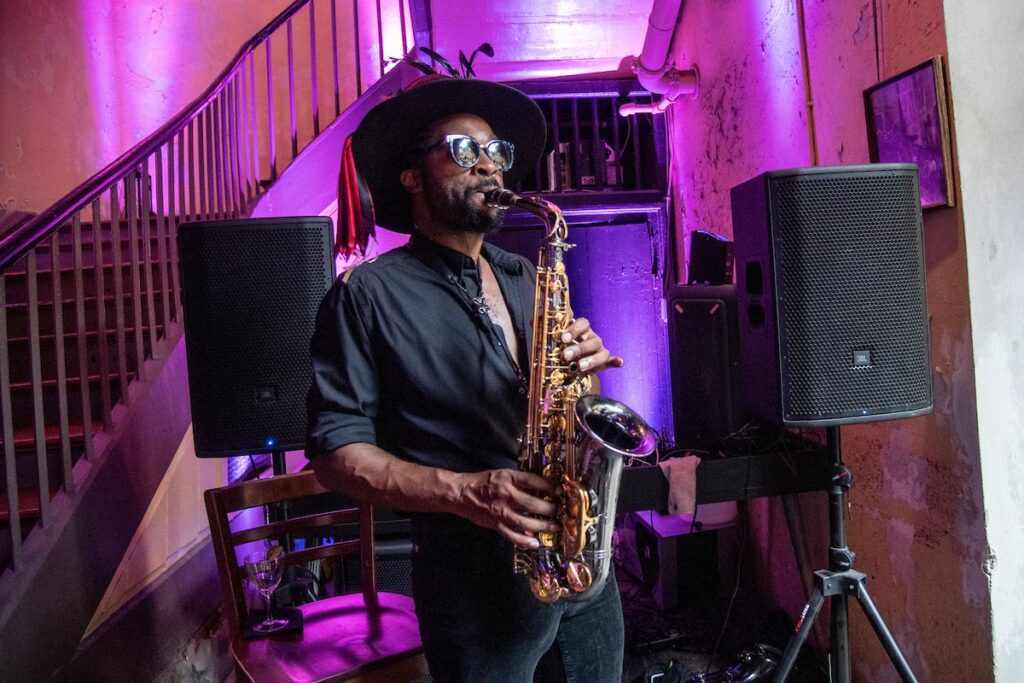 The night was billed as an experience for tastemakers and adventure cravers only at the historic Napoleon House. The Napoleon House has been operational as a restaurant and bar for over 200 years. It's located on Chartres Street in the French Quarter.
Upon arrival at the event, guests were greeted in the courtyard with a welcome drink of Dark Daquiris (original Kraken rum, lime juice, simple syrup). We enjoyed the music of Stevie P known as Apachesax for a few minutes before the dining experience started.
Guests were ushered into a dark dining room for a sensory experience hosted by chef Stephen Sandoval. Each of the three small bite courses was paired with Kraken cocktail pairings. Each course was served to guests who were blindfolded to experience each course with only smell and taste.

This whole experience took me completely out of my comfort zone. I am picky about food but I was all in on embracing the experience. It was a really fun way to experience fun drinks and food I would never try in a normal dining setting.
Courses included a raw oyster with crispy prosciutto, a tostada served with duck liver mouse and pickled anchovies and a fresh avocado duck croquette. Each course same out in quick succession so the entire dining experience lasted about 30 minutes.
After the meal concluded, diners exited into the bar space where they could experience an aura photography reading. They could also play Kraken arcade games or even get a free tattoo from a local artist.
Drinking Spirits, Seeing Spirits and Photography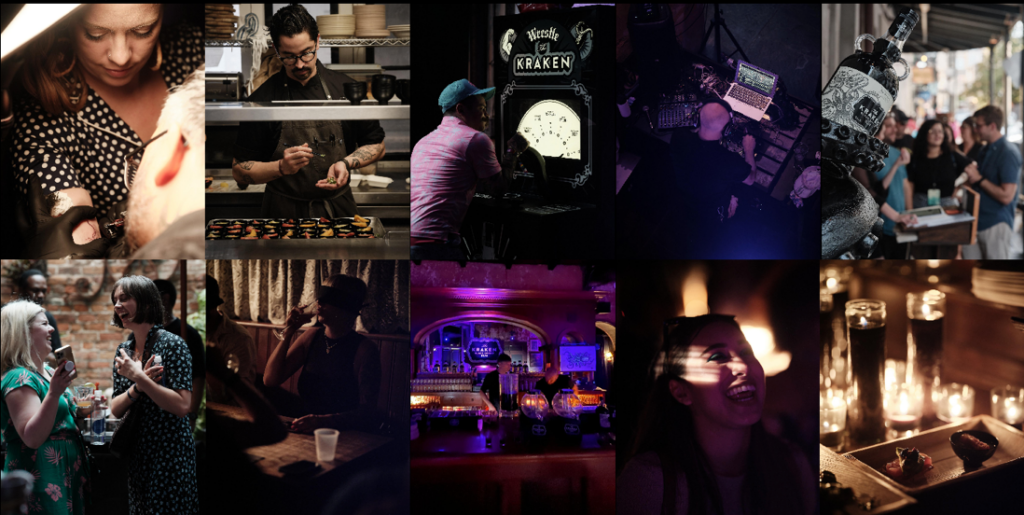 In the 1970s, coinciding with a boom in new age spirituality, an entrepreneur named Guy Coggins used the ideology of Kirlian photography. He created his own camera system, the AuraCam 6000, a camera still used today.
In this system, the camera is hooked up to charged metal plates containing biofeedback centers. A person places their hands on the sensors as the camera opens for a long double exposure. It creates both a headshot and a visual, colorful auric capture layered on top. It's a literal snapshot of your energy in the current moment.
As a photographer, I was intrigued and chose the aura photography experience. You sit and place your left hand on the device and a digital photo is taken and printed with colors. The photos are beautiful with psychedelic colors washing over you.
A woman was on hand to read your aura photo and this is where my night took a strange turn. She told me that the color orange means that I was adventurous and spontaneous and asked if I loved to travel all the time. Obviously, this observation was spot on (Hello welcome to The Travel Addict!)
She told me she saw something else in the photo and there was a woman that was always with me. The woman was showing up behind me in the photo with what looked like wings. I was asked if my grandmother had passed away.
This caught me completely off guard because both my grandmothers passed away several years ago. I have said for the past year that I felt them watching over me. I have been in a few crazy situations and I felt like they were protecting me in some way.
I was almost speechless and overcome with emotion and had tears in my eyes. The reader assured me it was all good news and that I was on a good path. I left out of the darkness of the bar into the bright light of the street. I felt like I snapped back into reality.
I would encourage anyone to try this whether you are a believer or not. It was a crazy fun experience. Different aura colors are associated with different energies. Here are some to look for in your own aura photo.
Red: Confident, courageous, passionate
Pink: Romantic, loving, generous
Magenta: Eccentric, free-spirited, fun-loving
Orange: Adventurous, creative, spontaneous
Tan: Practical, detail-oriented, logical
Yellow: Optimistic, joyful, playful
Green: Ambitious, growth-oriented, nurturing
Light blue: Calm, creative, nurturing 
Dark blue: Loyal, trusting, excellent communicator 
Indigo: Honest, peaceful, imaginative
Violet: Intuitive, visionary, innovative
Because your aura changes based on the passing of time, your circumstances, your mood, and even your environment can be different. You can get your aura photographed again and again and it'll likely never look exactly the same.