Christmas themed pop-up bars are returning to Cincinnati this holiday season. Gorilla Cinema Presents, the team behind local experiential Cincinnati bars and restaurants like Overlook Lodge, Tokyo Kitty and Tiki Tiki Bang Bang, takes the holidays very seriously and is once again transforming several of its establishments for the season, including its wizarding world-themed Pennifold's Pub. 
Pennifold's Pub Becomes A Harry Potter Themed Pop-up For The Holidays
Pennifold's Pub Holiday Magic is one of three immersive holiday drinking experiences this season in Cincinnati presented by Gorilla Cinema.
I decided to checkout this Harry Potter themed Christmas bar out over Thanksgiving weekend. But let's be honest I really came for the Butter Beer and my love of anything Harry Potter.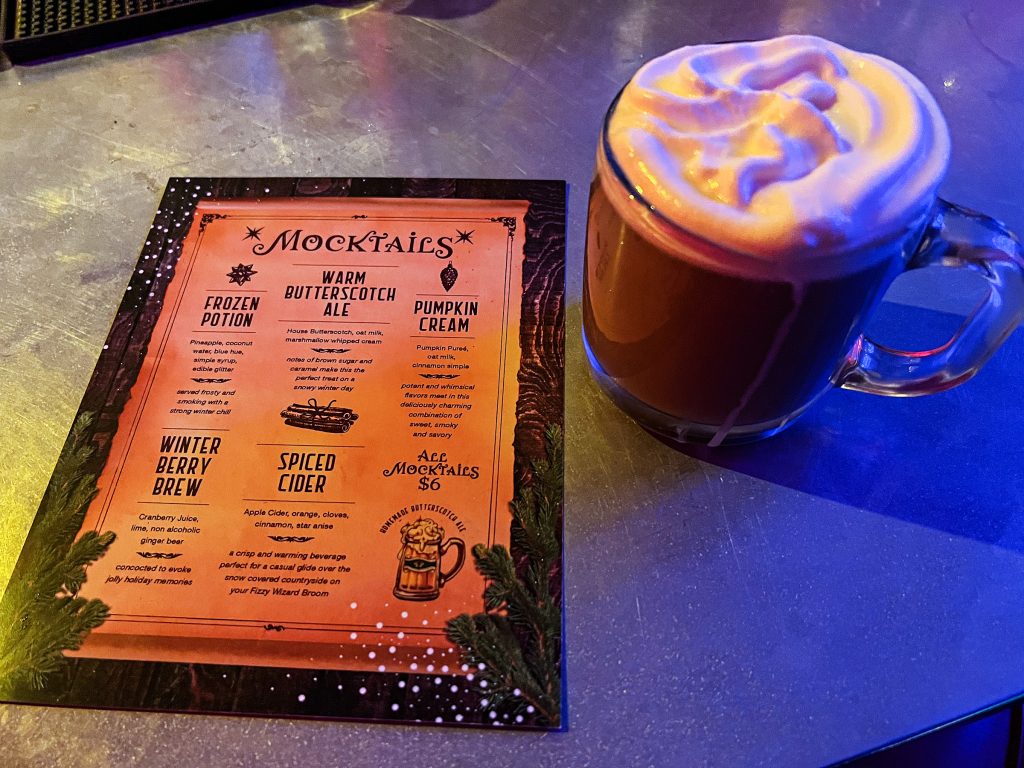 The Butter Beer (Homemade Butterscotch Ale) was amazing. I tried the non-alcoholic version, the version with Bourbon and the version with Vanilla Vodka. I literally could not get enough. All of the variations are served warm which is nice on the cold winter days leading up to Christmas.
If you love coconut I can also highly recommend the Frigid Elixir made with Bacardi coconut, Blue Curaçao, Triple Sec, Pineapple, Coconut Water and snowy coconut on the rim. The drink is bubbly and smoking blue when it arrives.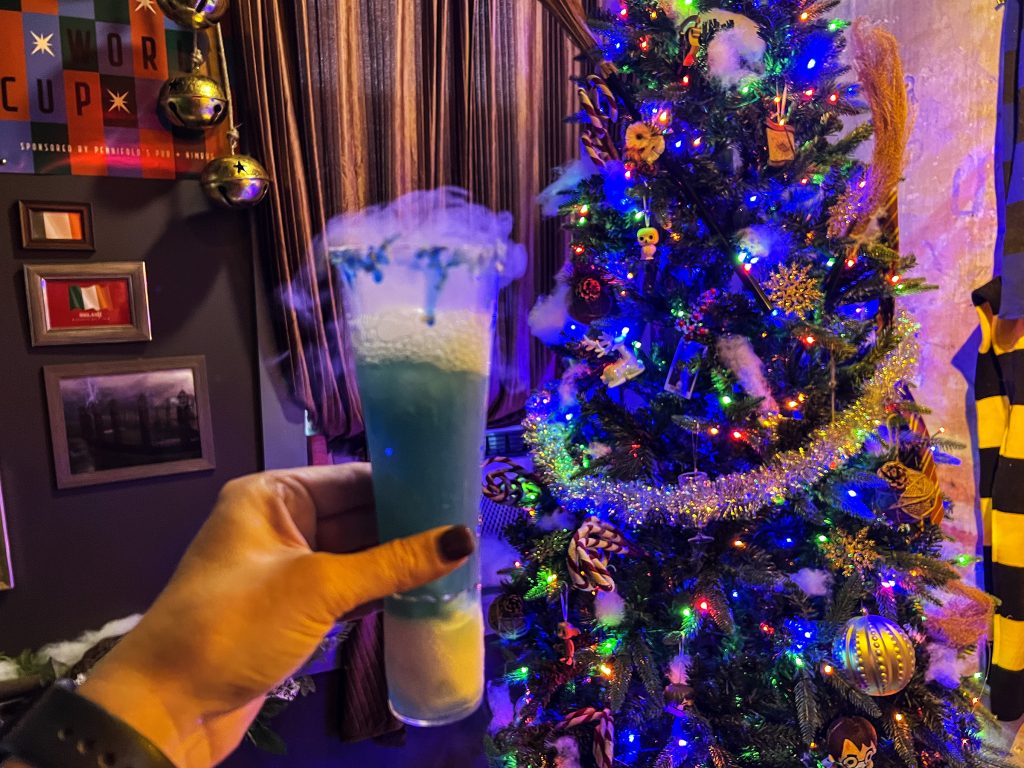 The drinks are reasonably priced at $6 for non-alcoholic versions and $10 for alcoholic festive beverages.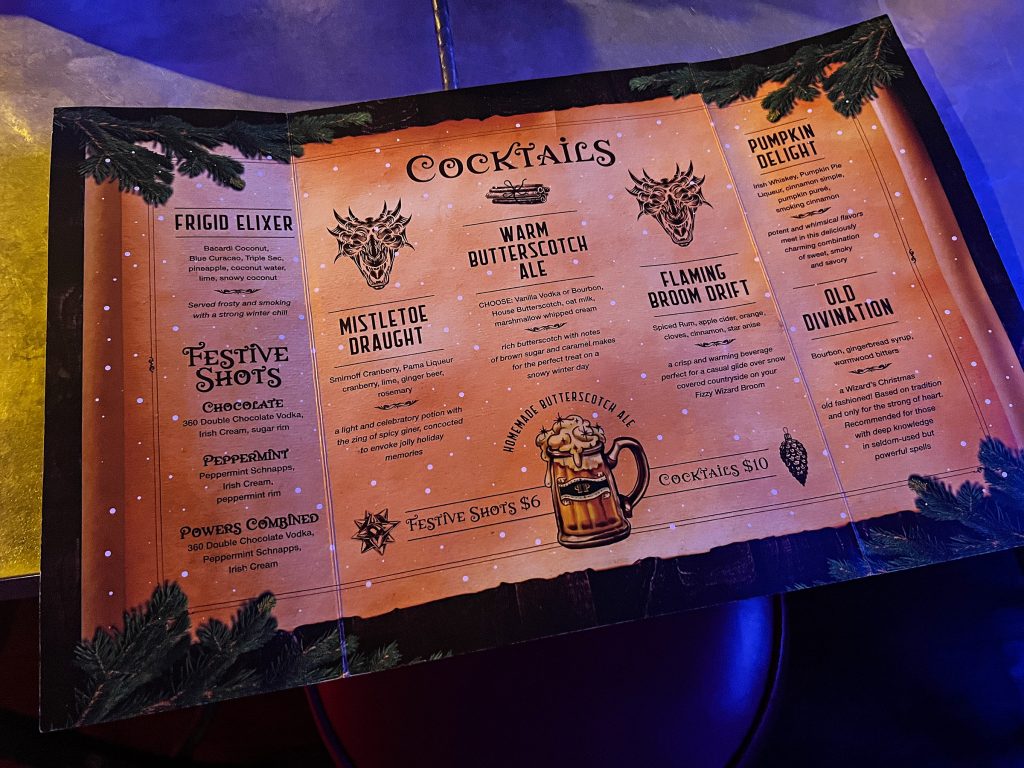 It's not your typical bar because kids are welcome to join in the holiday fun. They can even participate in a wand game to light up the trees inside the bar and make bubble smoke come out of wall hanging dragon. The wand games are open to adults as well for any die-hard Harry Potter fans.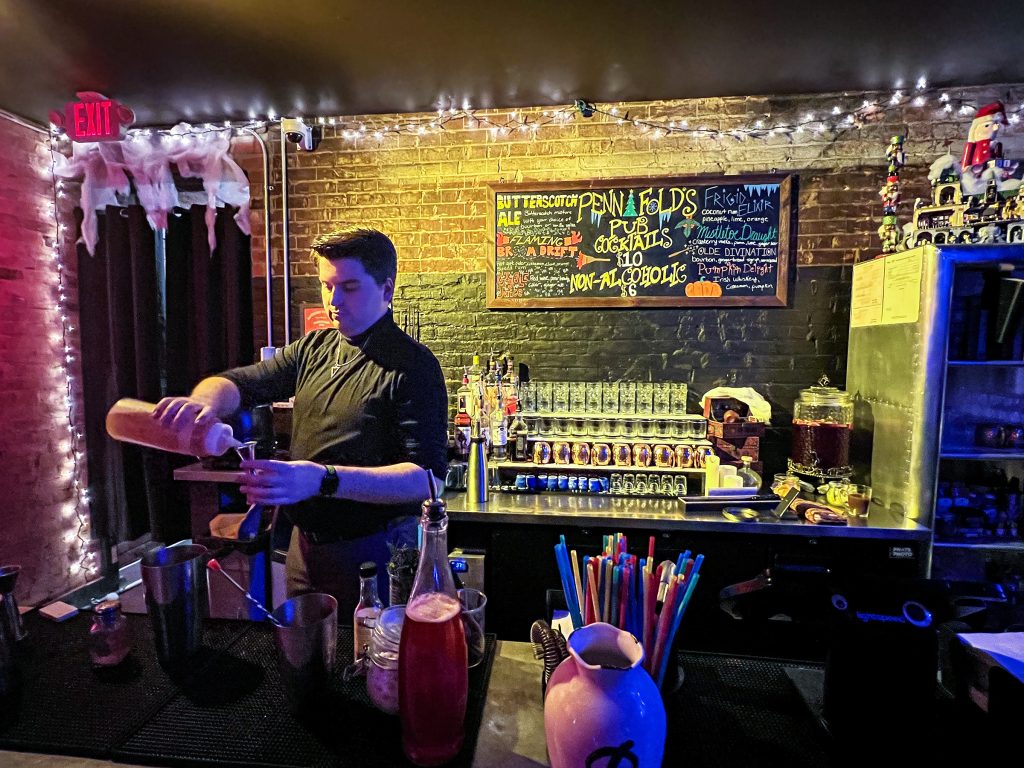 The bar is a speakeasy located behind the Cosmic Gorilla comic book store in the Over the Rhine neighborhood of Cincinnati. 
Pennifold's Pub Holiday Magic is open through Dec. 31. Reservations are $5 for a bar seat, $10 per table for two and $20 per table of four. 
Note: We went on Saturday around 2 PM and there was no cover charge to enter. 
Cosmic Gorilla is located at 1834 Race St., Over-the-Rhine. More info and advance tickets here.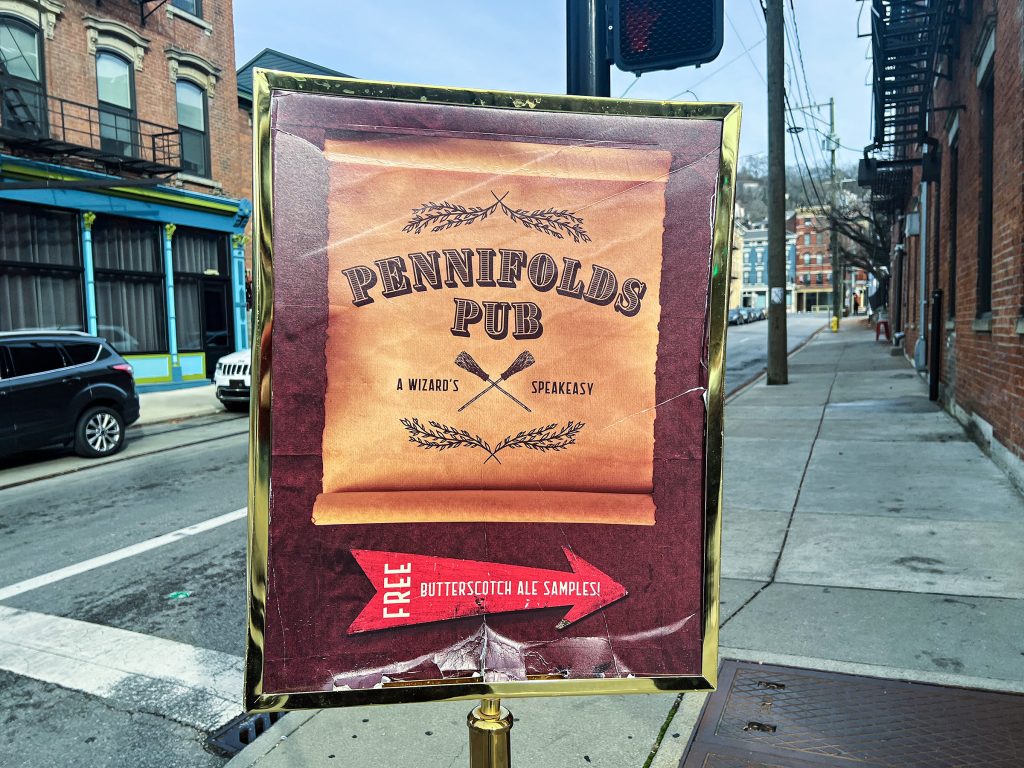 Tiki Tiki Bang Bang Transforms Into Sippin' Santa
After a stop at Pennifold's Pub I decided to keep the holiday bar crawl going by heading over to Walnut Hills to visit the Christmas themed Tiki Tiki Bang Bang. For the holiday season Tiki Tiki Bang Bang transformed into Sippin' Santa, where they serve holiday-themed cocktails along with hosting some special events.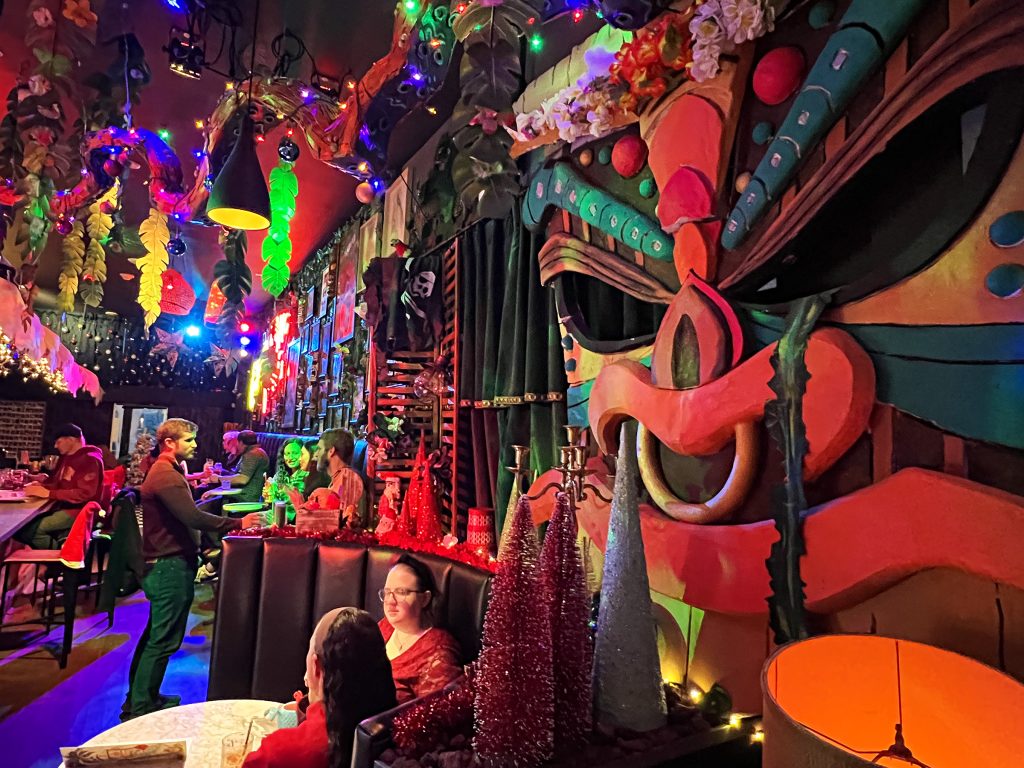 No cover or tickets are required to enter the Tiki Tiki Bang Bang experience.
How can you resist a bar that features a brand-new cocktails menu full of holiday-inspired drinks like Christmas on Ice, Kris Kringle Colada and Rudolph's Rum Rhapsody.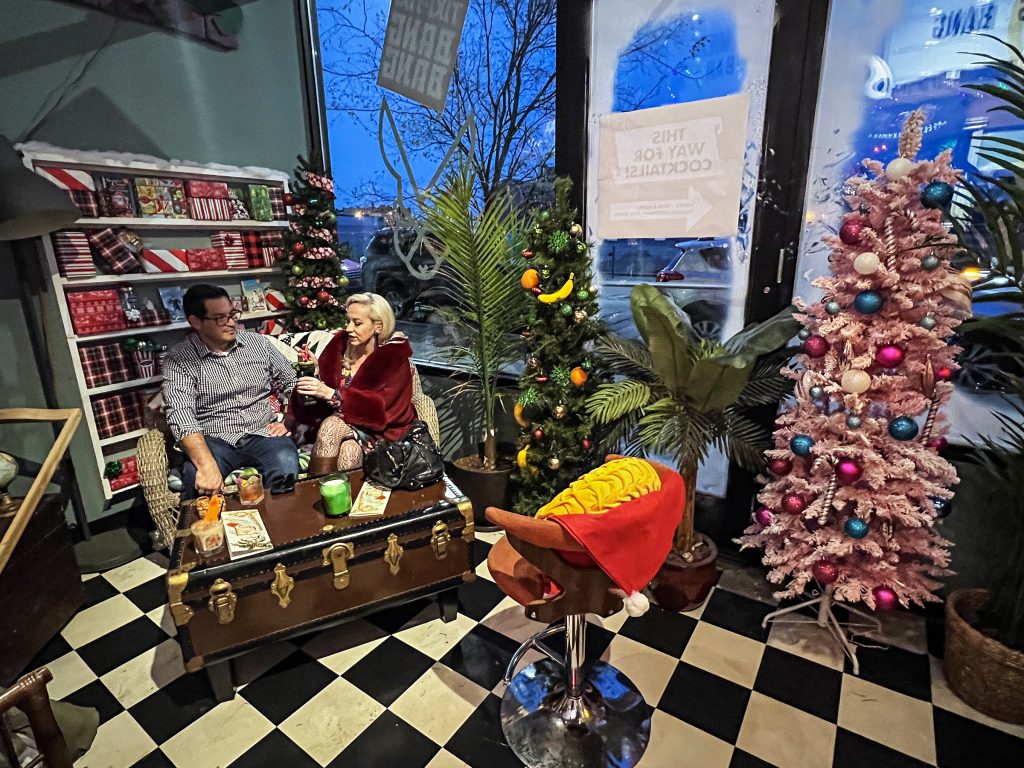 I tried the Sippin Santa while sitting at the bar listening to pop music themed Mariah Carey Christmas songs. This is the perfect place to hang with friends or grab a drink before heading out for the evening.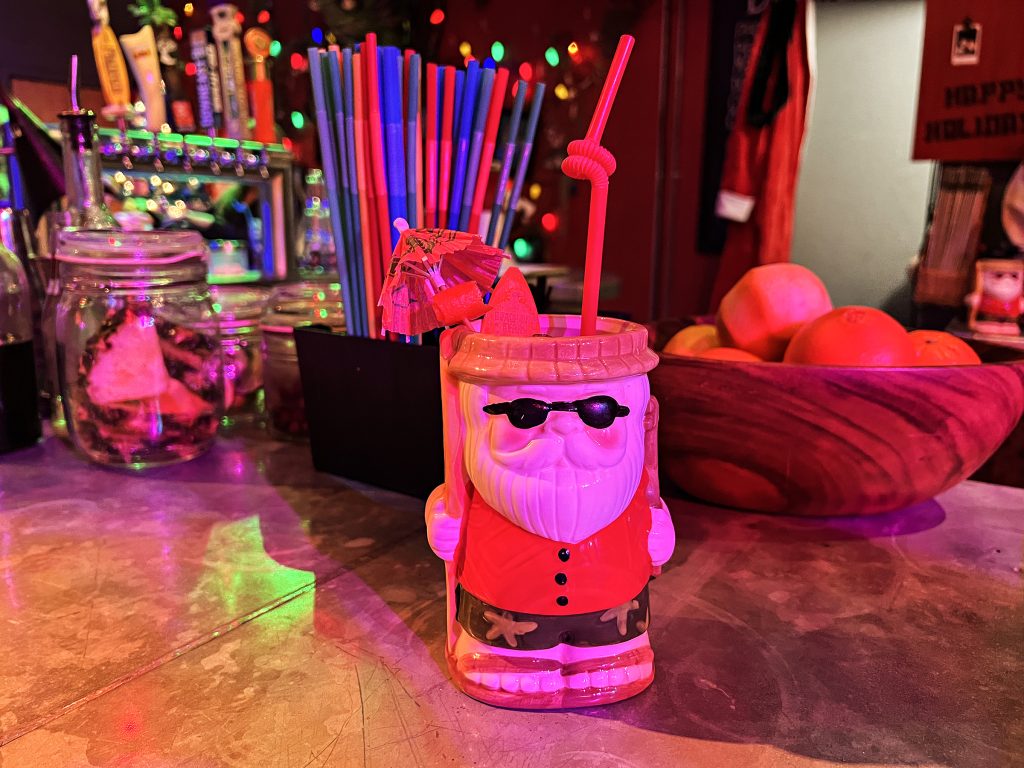 There will also be several events, like live Christmas carolers on Dec. 22 and Disney Karaoke featuring Frozen.
There is no cover required to enter the festive space. The bar is open Tuesday to Thursday 5 PM – Midnight, Friday-Saturday 2PM- 1 AM and Sunday 2PM- Midnight.
Tiki Tiki Bang Bang is located at 965 E. McMillan Street in Cincinnati.