Cap'n Crunch is celebrating 60 years with a birthday extravaganza on April 15th at Margaritaville Resort in Palm Springs. The seafaring sexagenarian's party will be from 10am-3pm at the Lone Palm Pool. Reimagined recipes using the cereal's flavors will tickle taste buds as guests partake in the brunch time pool party the brand is calling Cap'n's Cove.
The event, taking place during the first weekend of Coachella 2023, is hosted by singer/actress Renee Rapp. DJ Pee .Wee (AKA Anderson .Paak) will spin all-vinyl to get the party grooving. If you ever said, "Crunchatize me Cap'n!" as a kid when reaching for your favorite cereal, this event's for you. But sorry, kids, you must be 21+ to attend, so the only children there will be inner children.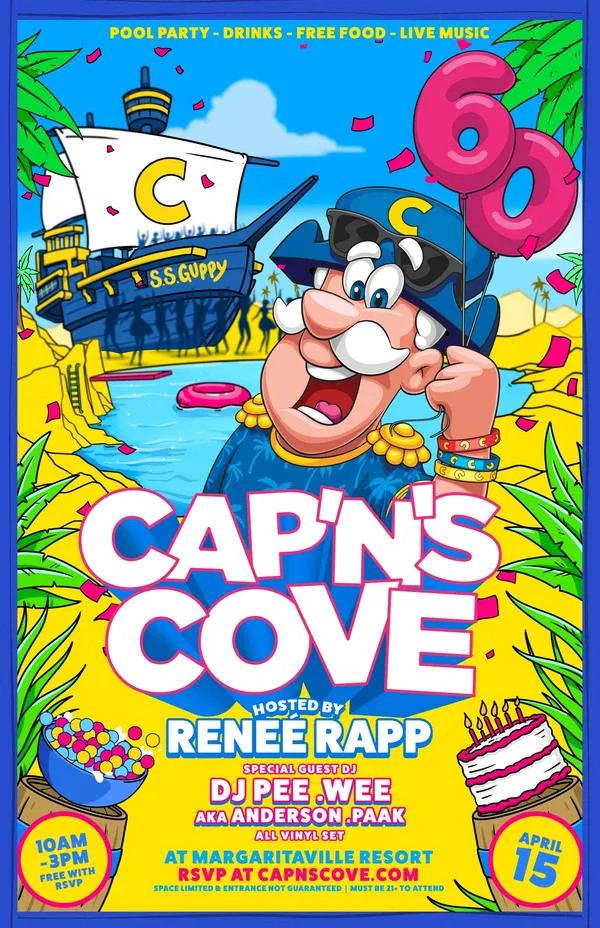 Cap'n's Cove will have complimentary food, drinks available for purchase, poolside photo ops, a cabana to customize festival 'fits and art installations for all your selfies. The first 500 guests through the door will receive one free drink ticket to kick off their experience. This is a free event and guests will be admitted on a first come, first served basis. Check in prior to the event to gain access to the Smooth Sailing List for expedited on-site entry.