Swedish melodic metal band Orbit Culture just completed their first US tour with fellow Swedes of In Flames. We caught up with vocalist and guitarist Niklas Karlsson to discuss the tiny town in Sweden the band calls home, the experience of touring the US for the first time and in the country where metal fans go the hardest. 
Karlsson also teases about what fans can expect in 2023, including their new album Descent. Orbit Culture is already slated to perform in various summer metal festivals in June and July. Check out the Travel Addict's interview with Orbit Culture's Niklas Karlsson below:
Talk about your hometown of Eksjö, Sweden.
I wish I could sell it better, but it's a very small country town, like 10,000 people maybe. It's a town where everyone knows everyone basically. You can't do much here I'm afraid.
Where do you tell people to go if they're going to come to Sweden to visit?
Obviously the old town in Stockholm is pretty rad to see. Just cruising around, especially when you go up to the northern parts. I guess it's closer to Norway, that's where the nature gets prettier. 
What was your favorite experience at Louder Than Life?
Everything from just stepping out of the bus there, being so welcomed by both the backstage crew and obviously the fans that showed up to our show. We had a great time meeting those guys, too. One of the best festivals we have ever played at and visited.
It was the first time for me seeing you guys at Louder than Life.  I immediately was reminded of another great European band Gojira. Were they an influence for the band?
Absolutely, without that band, we wouldn't be sitting here today. I can promise you that much.
You've been on tour with In Flames. What has been the highlight of the tour across the US. Do you have any stories you want to share from the tour?
We were spoiled and we couldn't ask for a better first run in the US. We could be playing like 200 cap shows opening up for some band but we were there with fucking In Flames! They took such good care of us. Every person, from their band members to their crew. They really took us under their wings. Meeting the US fans, finally, was great. It was really just a dream come true. We enjoyed every second of it.
You played one of my favorite venues in America – Whiskey a Go-Go in LA. That's USA 101 for rock bands. Did you have any fun experiences in LA? 
Absolutely. Funny that you mentioned Whiskey. We had our headline show there. It was surreal being on that stage, knowing there's so much history in that room. The fans were super nice. I think that week was one of our favorite weeks. It wasn't jam-packed with shows; I think we only had three so we could actually explore LA a bit and just have a great time.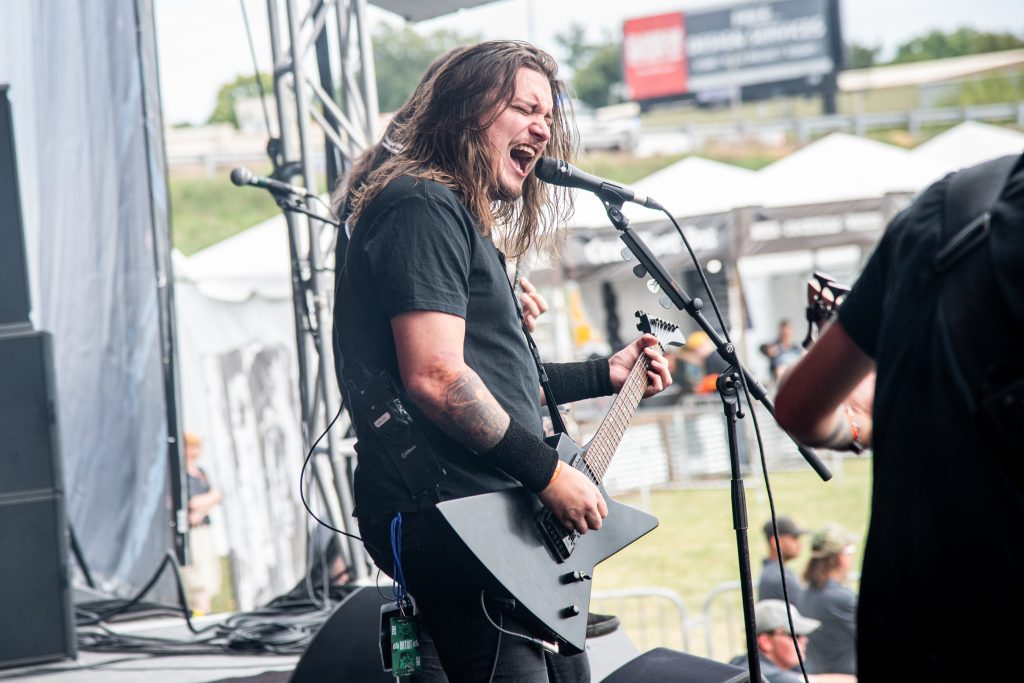 Did you do any sightseeing?
Yes, all the touristy stuff. We went out to the Santa Monica Pier. We strolled around Venice Beach and we did Universal. 
Any cities you're looking forward to visiting or favorite venues?
The O2 in London. But, you know, just playing at these two huge hockey arenas in Sweden, in Stockholm and Gothenburg, was a special moment for us because our family and friends were able to come to those shows.
How do fans differ around the world?
The Germans are good at metal – supporting metal bands and stuff. I'm very surprised that the fans in America were so friendly and bought so much merchandise. 
People have this misconception that metal fans are mad because of how the music sounds. 
Yeah, the music is just the outlet for the rage. Everyone is actually kind. 
The first single is out, "Vultures of the North." What's the inspiration or story of that song?
We just wanted a heavy, fist-to-the-face song. It grew from the latest video that we did, which was "Strangler" from the EP Shaman. We just wanted to bring that contrast because that song and video was almost in the rock direction. So we just wanted to go back to metal and fire. 
What's your songwriting process look like?
It's not as spicy as people think it is. It's basically waiting for my girlfriend to fall asleep and then I sneak into the computer room and just sit up all night working in front of the screen.
Has the writing process changed for you over the years as technology advances? 
Yeah. When we started, we met up and had small jam sessions and stuff. But, you know, the technology takes over and it's getting more efficient to make songs quicker and better. That's how I learned to make songs.
What can fans look forward to with the new music that's coming out in 2023?
Compared to our previous like Nija/Shaman, it will be like a mashup of those two releases. We have invented a lot of new elements, too. It's still Orbit, but with a darker undertone.
Do you have anything else you want to discuss coming up in the new year? Like any new singles coming out or new music?
We might have a new single coming up soon. Sooner than we think. And obviously, keep an eye out for the new album, Descent, in 2023. Maybe somewhere between January and February or March. It all depends on some strategic moves on our and our label's end.