Singer/songwriter, James McMurtry, is not a household name in music even though he should be. He has found his niche in writing and performing self-penned, epic songs for the last 30 years that reflect the American condition of the times, past and present. McMurtry has a personal connection with Tucson, Arizona since he spent approximately a year and a half as a student at the University of Arizona. His very first paid gig was at a joint in Benon, Arizona. 
McMurtry grew up in Loudoun County, Virginia even though he was born in Fort Worth and his earliest memories are in Houston. His mother taught him his first guitar chords at the age of seven. Now, his present-day guitar playing is to be envied by other musicians during his live performances. 
His musical heroes are Kris Kristofferson and Bob Dylan. McMurtry didn't start writing songs until he was 18 years old. He was playing outdoor patio gigs and grew tired of playing cover songs. He started performing his own music. He went to a Guy Clark seminar and decided to enter a songwriting contest. He won. He got his first record deal in Austin.
McMurtry is the son of famed American novelist, screenwriter, essayist and bookseller, Larry McMurtry. Larry started out as a creative writing teacher that led into screenwriting. His accomplished works include the Pulitzer Prize and Emmy Award-winning Lonesome Dove, The Last Picture Show, and Brokeback Mountain to name a few. 
James has followed in his father's footsteps. Many of his masterpieces depict blue collar families struggling to survive in an unforgiving world. Fan favorites include "Copper Canteen" and "If It Don't Bleed." His thought provoking and eloquent songs are like novels in five-minute segments. When McMurtry was asked what inspired his songwriting, with his dry sense of humor, he responded, "Fear of not having a job."
McMurtry's most recent album is a collection of songs called The Horses and the Hounds. The Travel Addict's Mary Andrews was able to catch McMurtry as he is getting ready to tour this summer. Here's what we learned.

You are getting ready to go on tour?

Yes, we have a run starting the 6th of June. It's not the Tucson show.

Are you supporting your most recent album, The Horses and the Hounds?
Not really, I don't really do that anymore. That album came out in 2021. We make albums to support tours. It's the other way around now. The old business model was that we toured to support record sales and hopefully you sold enough records to make royalties. That never happened with us. 
Since Napster came along, that really doesn't happen with anybody. So, we put records out so you guys will write about us so people will know when we are coming to town and they will show up to see us. That's how we make the money now.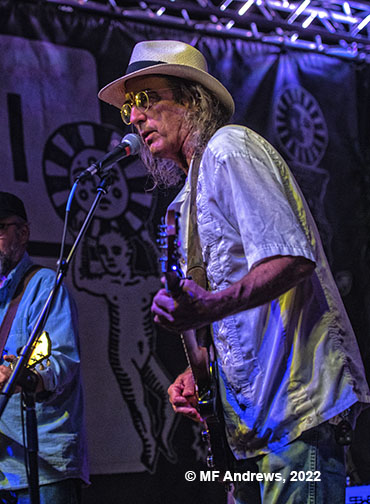 I noticed Ross Hogarth worked on your first two albums and he was back on board again with The Horses and the Hounds. 

He was John Mellencamp's engineer in the beginning. He made the new record. He was the producer among other things. He brought in most of the musicians and booked the studios. He did all the mixing, and all the recording. It is a Ross record.

It took quite a while to get the record done, was that because of the pandemic?

In part, yes. We tracked before the lockdown in the fall of 2019. We were just about to do keyboards in the Spring of 2020 and California shut down. We couldn't do it. We had to do various keyboard sessions around the country. We were emailing tracks. We were sending everything digitally and it took a while. 
Ross suffered a macular separation in one of his eyes during all that as well. So, he had to learn how to mix with one eye. It caused a lot of pain for him early on having to look at the screen.  

I have to ask about your recent gig performing "Where Did You Get That Red Dress?" 
Betty Soo found that red dress for me.
You've had a lot of notoriety with the Rolling Stone article. Was that a political statement on your part?
Certainly. The drag laws are stupid. I happened to be in Tennessee and I did three shows where I did the encore in drag. Then, I did one in New Braunfels, Texas because Texas also has a bill that cleared the senate like the Tennessee bill. So ,anywhere that happens, I'm liable to walk out in a dress for at least one song. Cause that's something I can do. It's easy. It seems to make a splash. 
And you have lovely legs! 
Thank you. 
We've come through the pandemic. It's been rough for all entertainers who tour. How much did that affect you and your record sales?
I don't know. I don't know anything about record sales anymore. Sales are negligible. Most people get their music through downloads, streaming so royalties are nil. What I did during the pandemic is I did live streams for tips. People were generous particularly at first. 
For a while, I didn't think I missed touring because my back didn't hurt anymore. Once things kind of normalized and I got back on the road, I found out I really did miss it.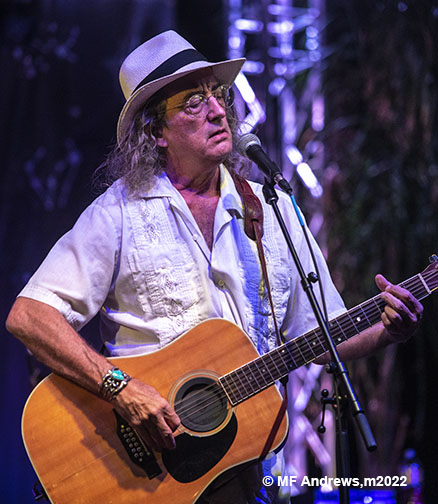 You generally hit Tucson about once a year.
Yeah, I generally hit about everywhere in the country about once a year, sometimes twice. Usually twice to the East coast and once to the West or the other way around. That's about how much the market will sustain. 
I read somewhere that you said Tucson was like a piece of California that broke off.
I don't believe I ever said that. That's not been my experience of Tucson. I lived there in the 80s. I think Austin is getting more and more like California. It's filling up with Californians. Tucson still feels like Tucson to me. It has retained its character. 
Your songs are filled with stories of middle America. When we spoke before, you mentioned that "Canola Fields and"Jackie" were your favorite songs from The Horses and the Hounds. 
They are still a couple of my favorites. I have written a couple of songs but I haven't gotten to write another record since my tour draw is still holding up pretty good. I sporadically write but I don't really knuckle down until it's necessary. When we start seeing a lot of empty seats out there, then it's time to make a record. 
Is there anything you would like your fans to know?
We're still doing our cow punk thing. 
What did you do during the pandemic to keep busy?
I did live streams two days a week. Did a lot of fishing. Since then I've been doing a lot of touring. The next run will be the Midwest. We'll do the West coast in July. We generally do at least one run a year where we do up the West coast and down the Rockies or the other way around. We'll do a couple of runs to the East cause there are a lot of gigs back there. 
What is your vision as to what you would like to do in the future?
I'd like to keep my job. It's kind of a thrill to be doing this at my age and for this long. I hope to keep doing it. 
A lot of people seem think that you, unlike other singer/songwriters, improve as you age. Your writing has been getting better the older you get.
I wasn't that good when I started. If I hadn't improved, I wouldn't have gotten anywhere. 
Interview and Photos by Mary Andrews