Chef Sara Bradley, runner-up on season 16 and season 20 of Top Chef, is bringing a new flavor to the south. Working in kitchens in both New York and Chicago after graduating culinary school, Sara learned from Michelin Star chefs, helping to develop her skills and become the recognized and talented chef she is today. 
Sara has her own restaurant, freight house, located in Paducah, Kentucky, where she was born and raised. Her upbringing with Jewish and Appalachian parents exposed her to unique culinary worlds that influence her menus today with Western Kentucky staples. Her menu features traditional southern dishes with a modern twist. Sara's focus is to bring local, fresh foods to everyone's table and encourage the "farm-to-table" practice in homes around the world. 
We got to meet Sara at Bourbon and Beyond music festival in Kentucky where she partnered with chef and writer Ed Lee to do a culinary demonstration. We talked about her travels on Top Chef, what it means to be a woman in the culinary industry, and where to go to find the best southern food.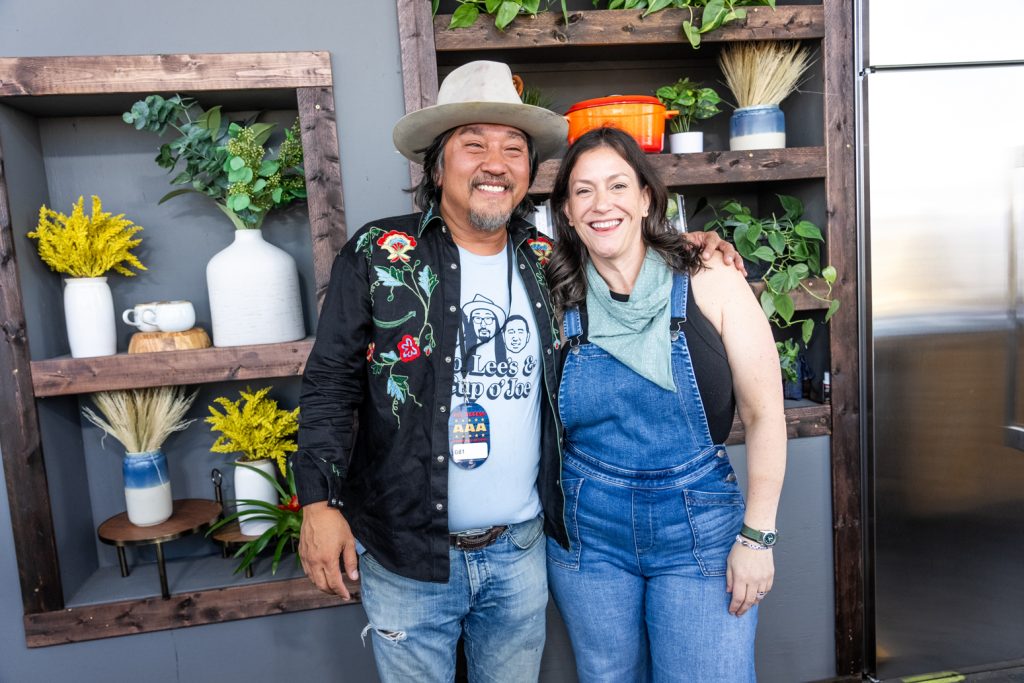 On Top Chef: All Stars you went to London and Paris. Did you get to see any of the sights?
We got to see a ton of stuff. That's one of the best parts about doing these shows is getting a little bit of behind the scenes access to things that normally people wouldn't. That's one of my favorite reasons that I keep doing them. We were on semi lockdown because of Covid and because of the show. Also, when we were in London, the Queen passed. So, it was really hard to navigate just around the city itself.
Any favorite sites at either place?
I think cooking under the Eiffel Tower, and winning that challenge. The one where we're cooking on a boat under the Eiffel Tower. That was pretty nice.
What's your favorite Padma moment?
I just feel like there's been these moments where Tom (Colicchio) or Padma (Lakshmi), they come off stage and they talk to these chefs, and they say, be true to yourself, cook your food. When you've watched someone on TV for so long and then to have such an endearing moment, especially with like Tom and Gail (Simmons) , all those people, it's just really nice. 
It's humanizing. For so long, you stare at them on the big screen and then you're part of it and you kind of forget that you're actually about to be on the big screen. Your mind is so in the competition. When they take a moment to really push some inspiration your way, it's just wonderful.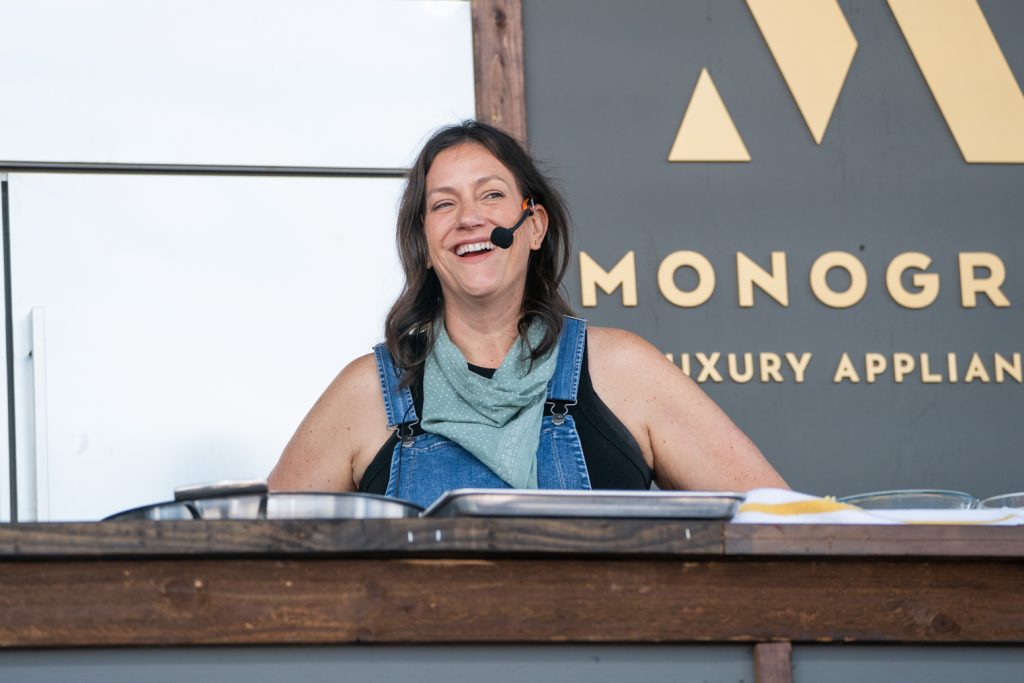 I was so inspired to see you on Top Chef right after having your second child. What made you choose to do that?
I felt like it was this amazing opportunity to showcase women in my industry and women in any industry, honestly: working mothers, pumping mothers. It hasn't been a long time since women have been able to choose to do this. So, I chose to pursue my dreams, go cook, do all of this stuff and continue to feed and pump. 
It's because we no longer have to make a choice. We can have everything we want. We just have to demand it, you know? I said that I want to come on the show, but I need these things to be able to make it happen. Top Chef just perked right up and made sure it all happened, but you have to ask. You have to push for it. 
What's your favorite bourbon cocktail?
I think maybe a Boulevardier.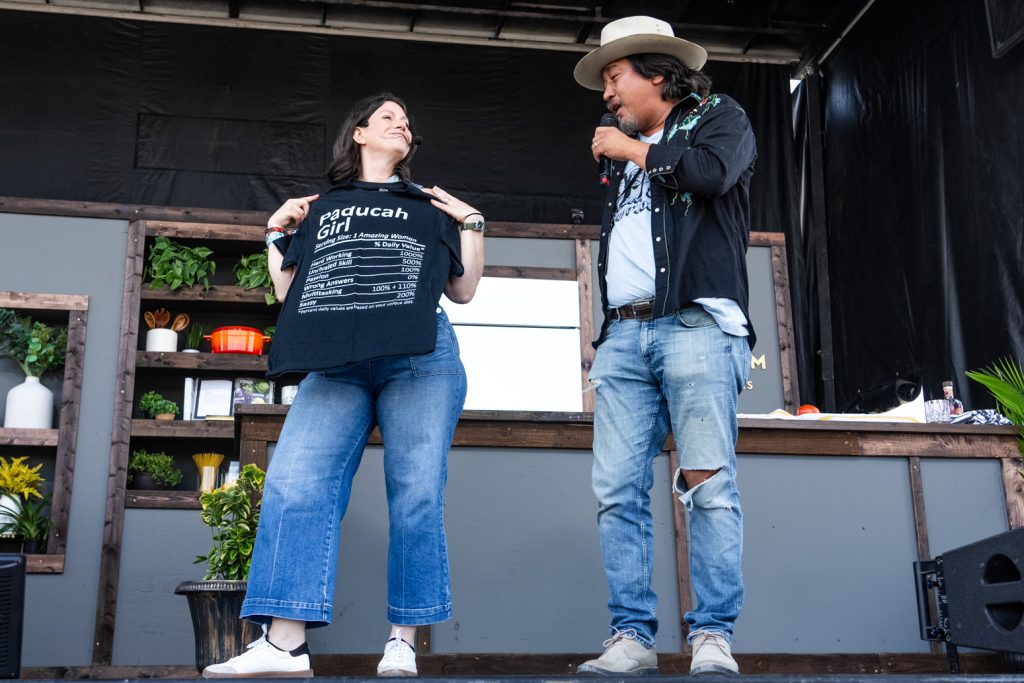 What are your most packed travel items?
Well, this is for me, and probably every woman. If we're talking about non-culinary items, obviously you need enough underwear to be gone for four times the amount of time. You gotta have it. I also always pack a soft sided cooler everywhere I go. It's a little collapsible cooler because I like food and I like to drink. 
When I travel somewhere, I find things that I want to bring home, so I always have one of those. It's actually a Yeti brand. It's very soft sided. It weighs nothing. I just came back from someplace else and it's full of cheese and jams and jellies and sausages that I'll take home.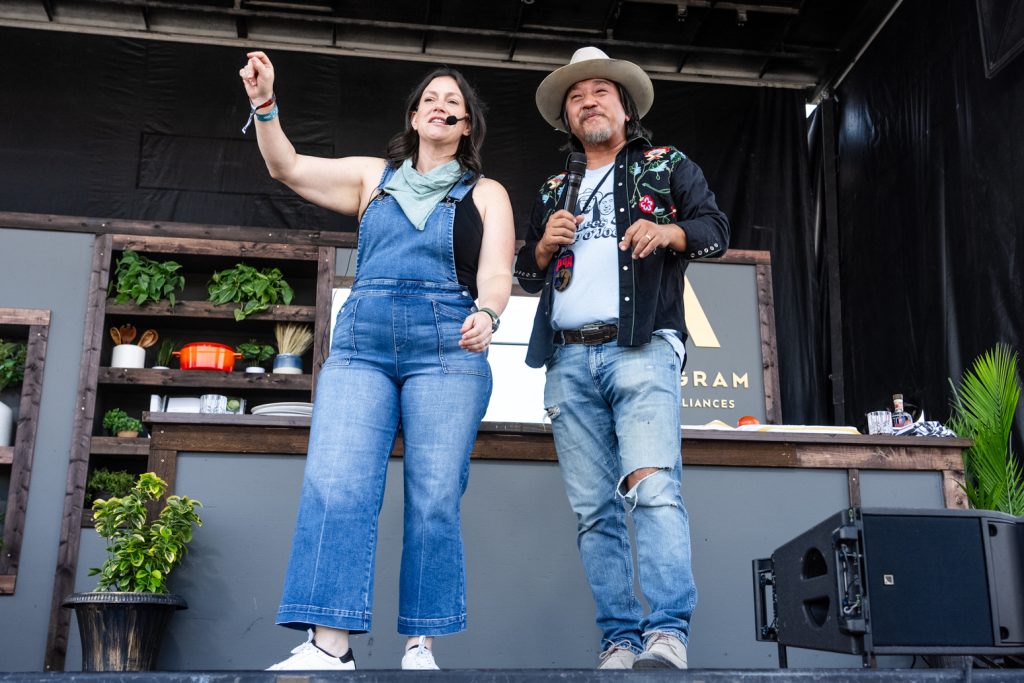 You have two little girls now. Any tips for traveling with a family?
I think my number one tip is don't worry that you're bothering anyone else. It took me a long time to realize that no one else really cares what you're doing. I don't even think that has to be with children, no one else is worried about you. 
It's hard to just turn it off if your kid is throwing a fit or being upset, but don't worry about that. Other than that, lots of snacks. You need all the snacks that you normally won't let them have because there are going to be moments when you're like, here, I know you're hungry, here you go.
Are you still offering online cooking classes?
We still do them for more curated experiences. People can hire me to teach them. But during the pandemic, it was a great way to keep myself and my staff employed and keep the restaurant open. We did a lot during that time and we still do them, but we don't openly offer them. I do them for more of a private clientele. So, if you want one, you can always reach out.
What are some of your favorite dishes to cook?
One of my favorite things is cooking food every day in the restaurant. We are family oriented. We're this great, safe, friendly environment. But I love to come home. My favorite two things to make are spaghetti, like actually the traditional Bolognese, but we call it spaghetti sauce. That's what I cook for my family for every special occasion, as well as tomato soup and grilled cheese.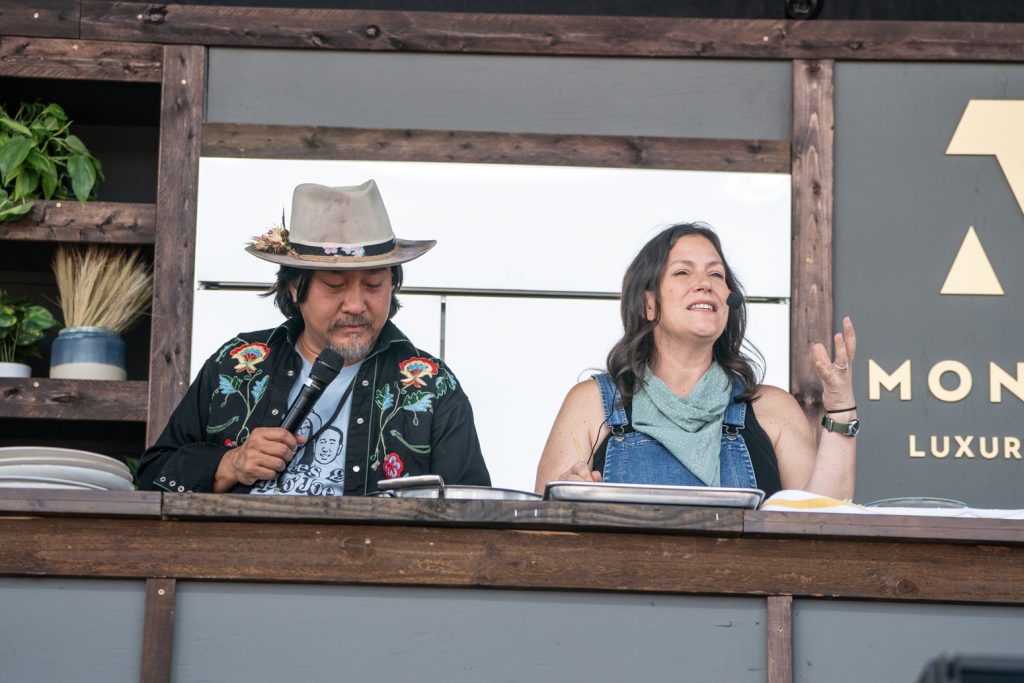 Has your menu changed at all since you came back from Top Chef? Did you come up with something that you considered putting on your restaurant's menu?
I'm inspired by food every day. The pea cake from Top Chef is still on my menu. We'll keep it a little bit longer. It's hard because we try to cook really seasonally and we're kind of losing the peas. Anytime I travel somewhere, I try to find the obscure local food scene as opposed to the tourist food scene. I think that that's something great when you're traveling. Try to find the places that are less visited.
Are there any off the beaten path places that you would recommend, especially in Kentucky? 
So, if you're in Kentucky, you've got to hit up the barbecue. It's amazing and it's very different from anywhere else. Mutton barbecue is a big Western Kentucky thing. It's so, so good. I just think that when you go into a town and you see a burger joint that looks like it's been there for 60 years, that's counter service only, there's a reason it's been there for 60 years. That's the place I would go.