Rockers Butcher Babies are back with not one, but two new albums that dropped on Friday. In the world of heavy metal, few bands possess the raw intensity and fierce energy of Butcher Babies.
Known for their explosive live performances and unapologetic approach to their music, this Los Angeles-based band has been captivating audiences around the globe with their unique blend of metal, punk, and aggressive vocals for over a decade.
We caught up with frontwomen Carla Harvey and Heidi Shepherd recently to talk about the double albums, tour, and that one time their bassist got left behind in an airport and more.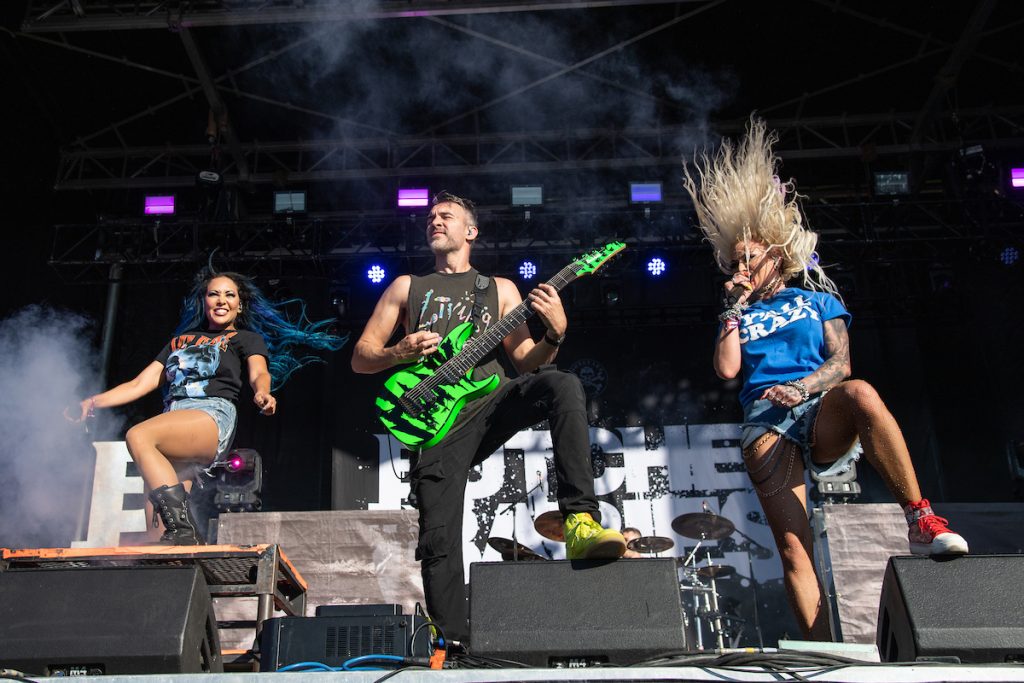 Tell me about the new double album, Eye For An Eye and 'Til The World's Blind? 
Carla Harvey (CH): We're really excited about it. We started writing these songs in 2019. A lot of the songs on Eye For An Eye have been released. We worked in Arizona on that album. It is so exciting to have these different dimensions from us coming out at the same time. You hear more of a commercial sound from us on Eye For An Eye and then 'Til The World's Blind was recorded in 2022 in the dead of winter in the middle of a farm in Michigan. It was very desolate and cold; we were coming out of the pandemic scared and angry and sad. You hear a lot of those emotions reflected on that part of the album, the 'Til The World's Blind side.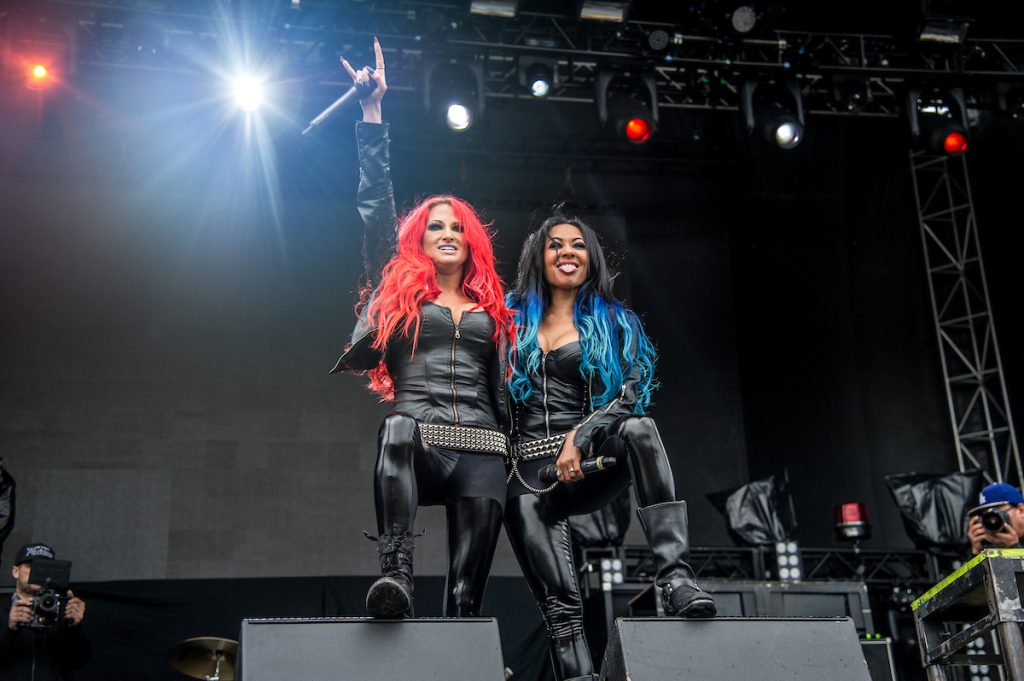 The band is about to embark on a full summer tour, both by yourselves and then joining Nonpoint, Coal Chamber and others the second half of the summer. Are there any cities you're looking forward to visiting?
Heidi Shepherd (HS): There are a lot of really exciting ones. I, for one, am excited to go to Salt Lake City. That's where I'm from. I've attended shows almost my entire life at USANA Amphitheater. I'm very excited to be playing that amphitheater and seeing a bunch of old friends. Touring with Mudvayne is a dream come true. Chad (Gray) is a good friend of ours. I'm excited to go home on this tour. We never get to play Salt Lake that much. 
CH: I'm thinking about the European tour that's coming up and the dates we're playing there. I'm so excited to play Helsinki and I cannot wait to party with Heidi and Henry in Helsinki. I've been before, but we haven't been as a band yet.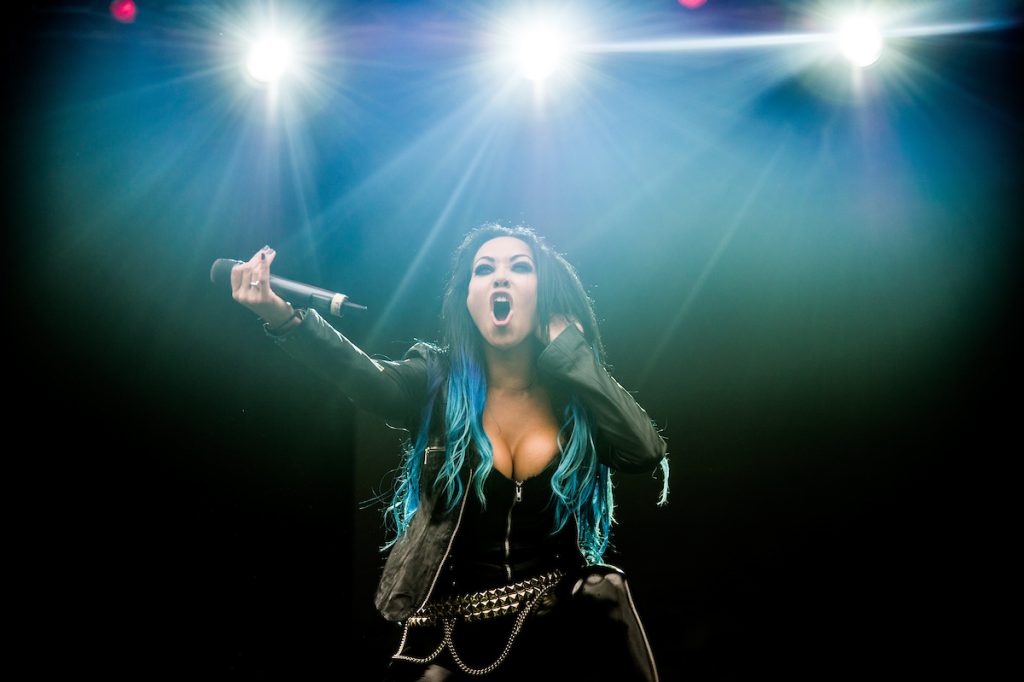 Tuska Festival, which we're playing, is really, really cool. There's something so special about Finland. I have Finnish blood, so maybe that's why I'm so attracted to it, but Helsinki is one of the coolest rock n roll cities. Great rock n roll bars, great food. I cannot wait to go there and have some long drinks, their national drink there. 
On the Mudvayne tour, I love playing the big shows at places like Pine Knob, where I'm from. I grew up going to shows at Pine Knob in Clarkston, Michigan, sitting on the lawn. It's surreal to play in the auditorium. Last time we went, we played in the parking lot at Pine Knob for Mayhem Fest in 2013. Even my grandmother came for that one. It's going to be really great to go back.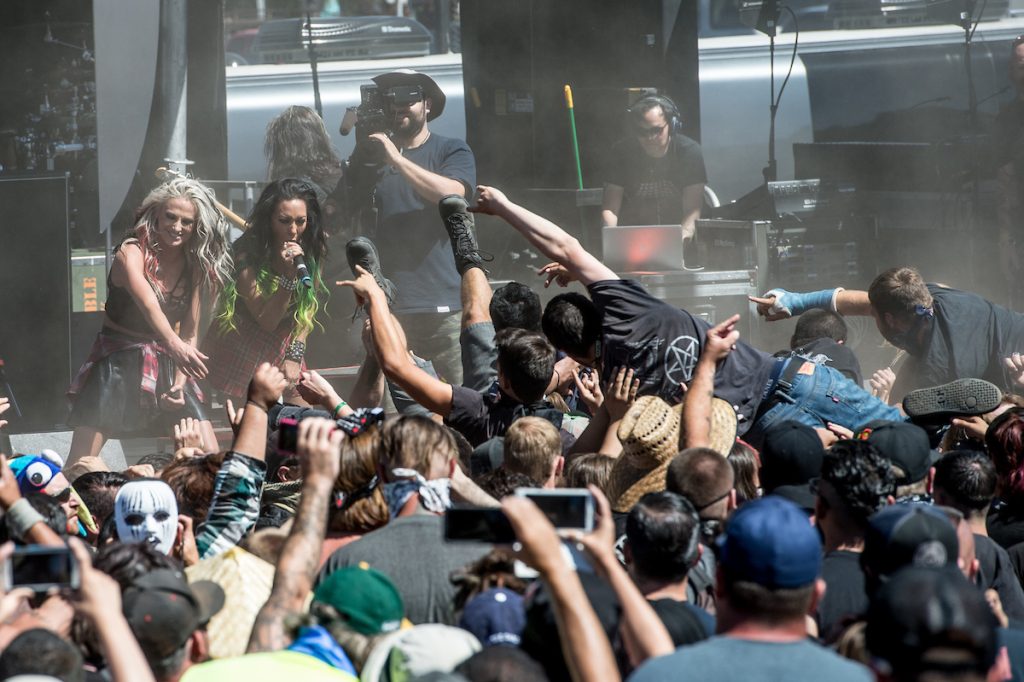 What are your favorite things to do on your days off on the road? 
HS: Gym, tan, laundry. GTL!
CH: It's kinda true, though. Heidi & I always find an OrangeTheory or some other gym to go to. I like to get a hotel and have some peace far away from the stink of the boys. We love having dinner together, some drinks together and seeing something special in whatever city we are in. 
One great memory that I have with Heidi is going to Memphis. We didn't have much time, but I really wanted to go see Graceland. I didn't think she was going to get up and go with me, but she did. So, we saw Graceland and we had the famous peanut butter sandwiches that Elvis ate together. It was a great day.
HS: Yeah, that was really fun.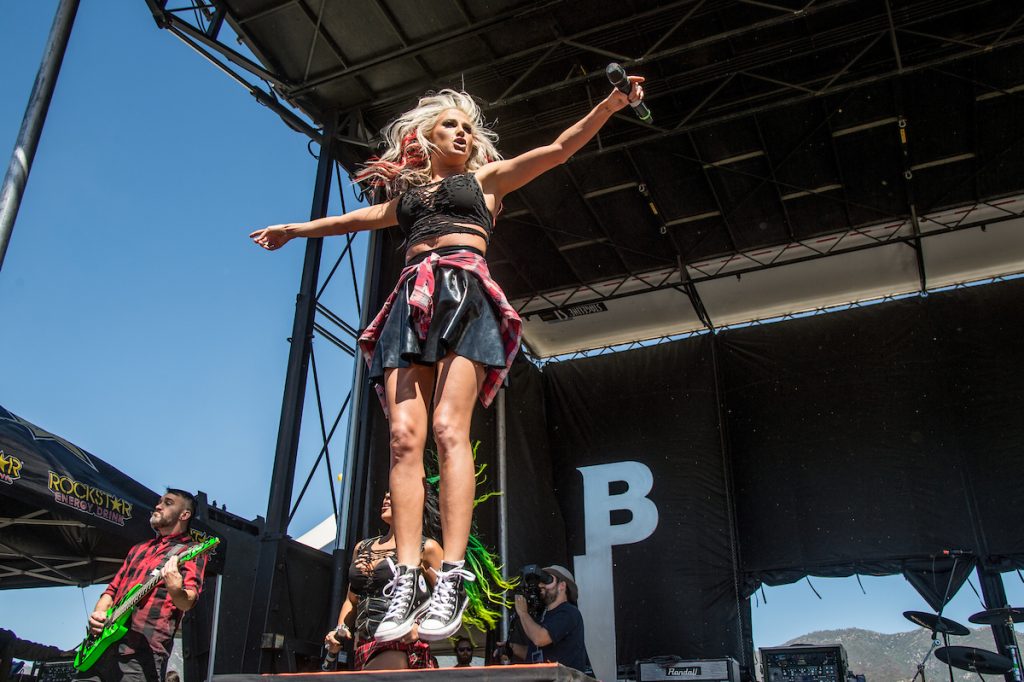 CH: We like to do things together. We're one of those bands that like to hang out together. Even if we're separate throughout the day, we all are best friends and we have been for almost two decades. It's really incredible for us to be able to tour the world together. I really don't take that for granted. We get to do this as a team and as best friends.
What's your craziest travel story?
HS: Gosh, we have a lot. 
CH: Well, one time our bass player got left in Russia.
HS: That was the one I was gonna tell, but I didn't know if I should or not. But f*ck it, right?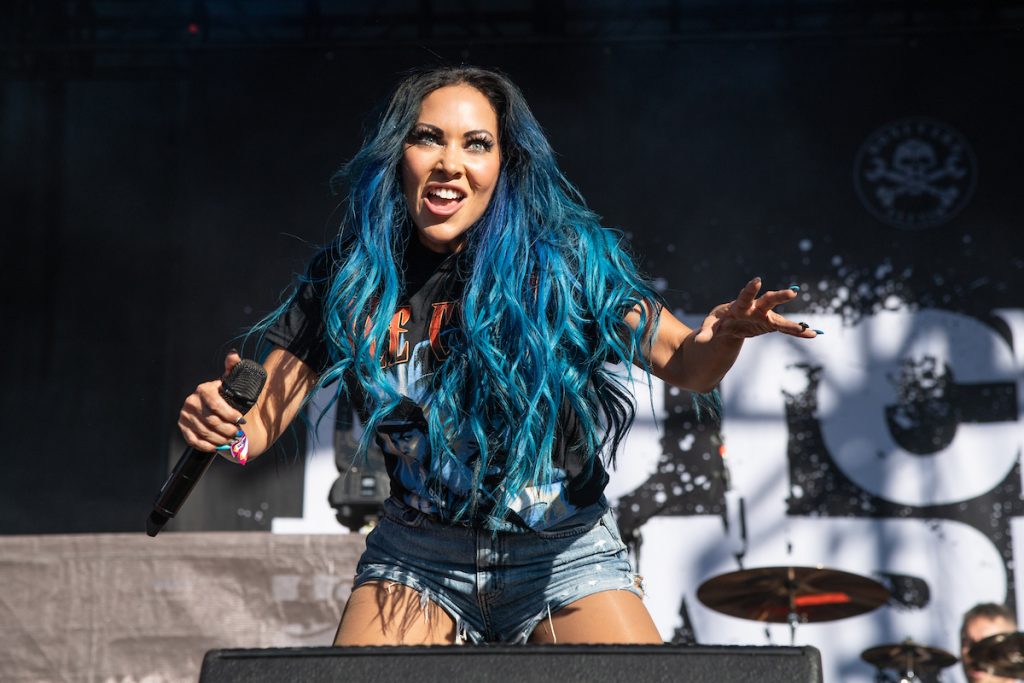 So, what happened?
HS: We got to the airport like three hours early for our flight. We were checking in all of our stuff with this lady and there was this cat sitting on her shoulder. It was totally fricking weird. She was going so slow, she was handwriting all these receipts. Completely bizarre behavior. By the time she got done, I told everybody, we have to run to the plane or we aren't going to make it. 
We were all very tired. It was first thing in the morning and our bass player hadn't had his coffee yet. This is a man who has a coffee mug that says 'Do not talk to me until I've had this much coffee'. So, I tell him to run and he says, 'I'm not f*cking running'. We all ran and he did not run, so he didn't make that plane. He was sitting in Russia for hours in an airport lobby with no visa because our visas ran out that day. 
CH: You have to remember, too, when you're in a band and you start touring the world, a lot of us hadn't been anywhere before the band so we learned together how to buy plane tickets and do all these things to travel. I usually bought the plane tickets and our bass player didn't really know how to change a ticket for the plane that he missed. It ended up being quite the debacle. Jason is the funniest guy, the best guy. But he had a nuclear meltdown. We will never forget that. We had our Chernobyl there. I'd say out of all of our travel mishaps, that was the most severe. But we've had a lot of crazy travel. Every band has when you've reached the amount of time we've been active.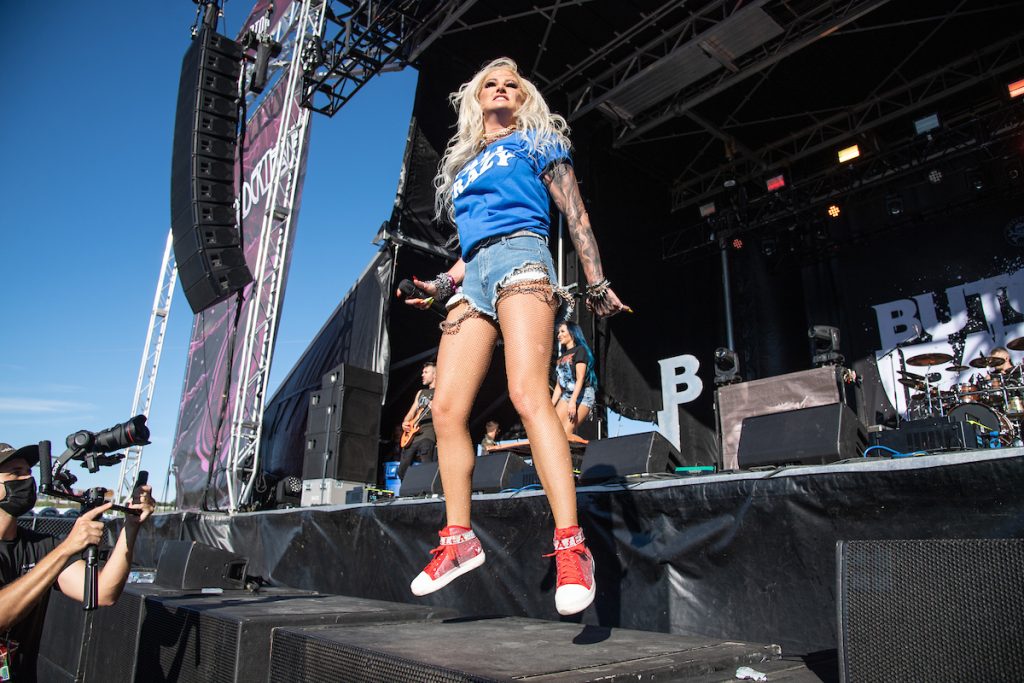 I thought you said you left your bass in Russia, not your bass player!
HS: The funny thing is, when we check in all of our gear, we check in everything all together. We were all traveling to the same place at that time, so everything's put under random names. Like, our guitar player Henry, all of his gear was under Jason's name. So, all of Henry's gear and luggage was pulled off the plane and left in Russia as well because Jason didn't make the flight. 
CH: It was definitely a time. But it's nothing that could break us. We laugh about it now. 
You got him out. That's what matters. 
HS: Famous quote when he got left was, 'Friends don't leave friends in Communist Russia.' We still say that to this day. It always makes us laugh.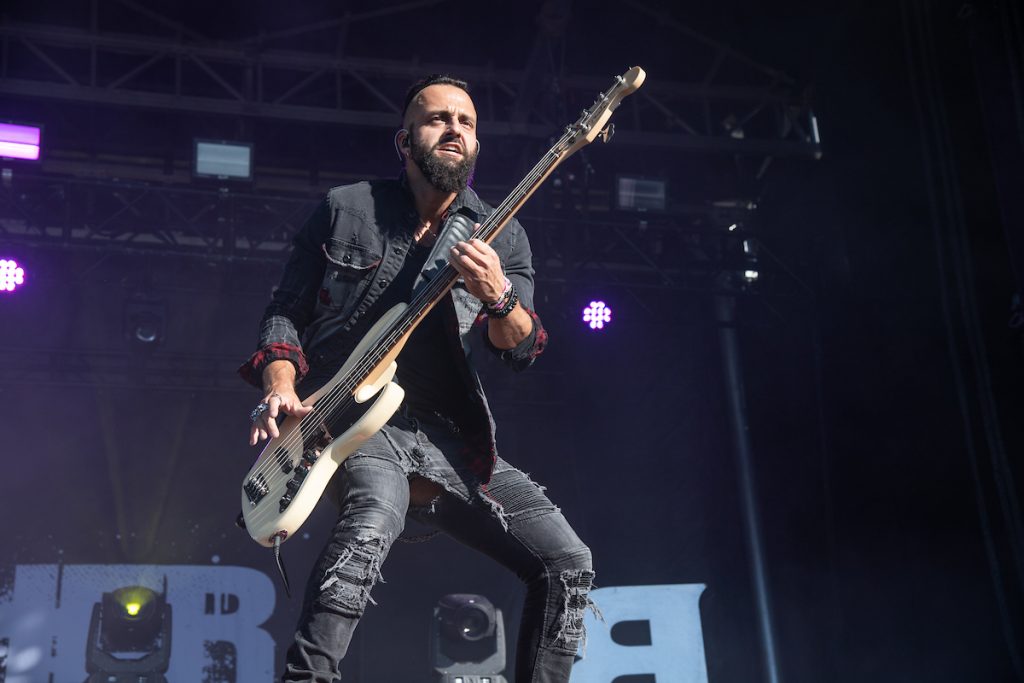 Carla, one thing I want to ask you about is art related. You've done art for a while now, but you're now showing your art with Punk Rock & Paintbrushes. How has that experience been? How was the show in LA?
I've been doing art shows since 2013. I got Charlie (Benante) to do a couple with me because he's been an artist his whole life, but hadn't ever shown his art. I thought it would be really fun for us to do. We created so much art together during the pandemic. He loves doing it now, too. 
Showing the work stressed him out a bit more than it does me because I've done it before and he gets overwhelmed, but I think when you see all of your art on a gallery wall and you see people coming through and looking at it and discussing it, it's such a cool feeling. To do things together as a couple is really fun. I feel extremely lucky to have met someone who is very similar to me, between the heavy metal and the art and everything that we love. We're very one.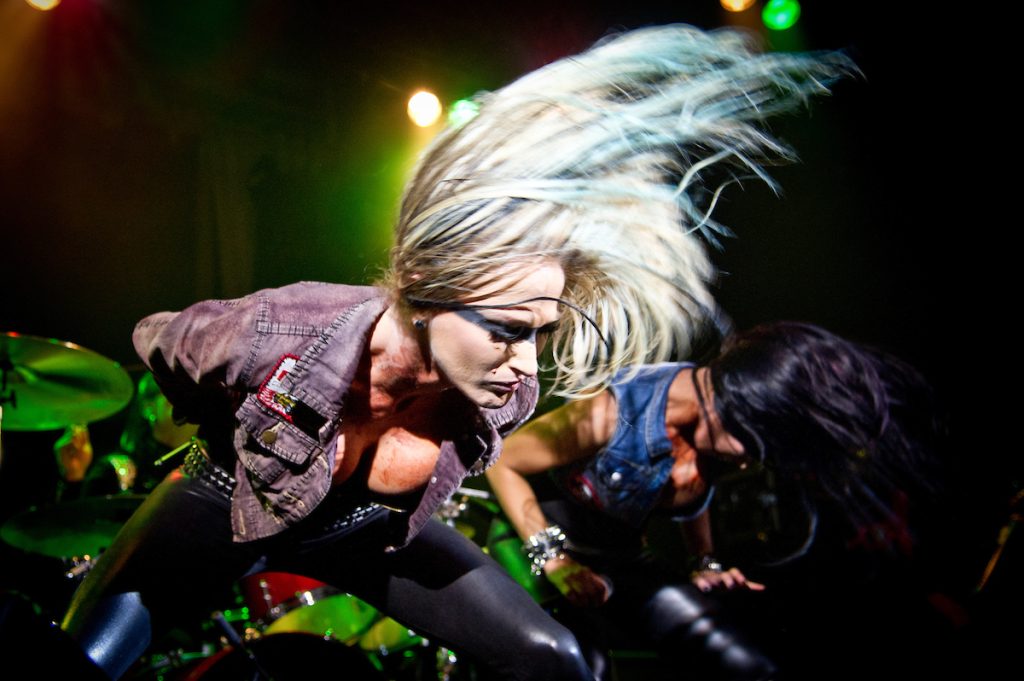 As you mentioned, you both are in relationships now. What's the perfect couple's vacation?
HS: Oh man, anything except for a tour. I think the nice vacation is actually just being at home together. With Carla's relationship, they're separated for a lot of the year, so being home together is really special for them. For Henry (Flury) and I, it's always really stressful being out on the road. We don't act like a couple. We're not like lovey dovey on the road or anything. When we get home and we get to sit on our couch and watch TV together, it's literally our favorite thing. What about you, Carla?
CH: I tend to feel the same. I'm away from Charlie so much. I'm gonna go to Europe early to try to spend a little time with him, but for me that's not the funnest thing. When you're on tour, you're a little stressed. Even though you get to see the world together, it's in stolen moments. It's not full-on relaxation. I really begun to enjoy being at home with him. We moved in together in 2020 and just doing silly things like watching shows together or painting together at night has been my happy vacation place.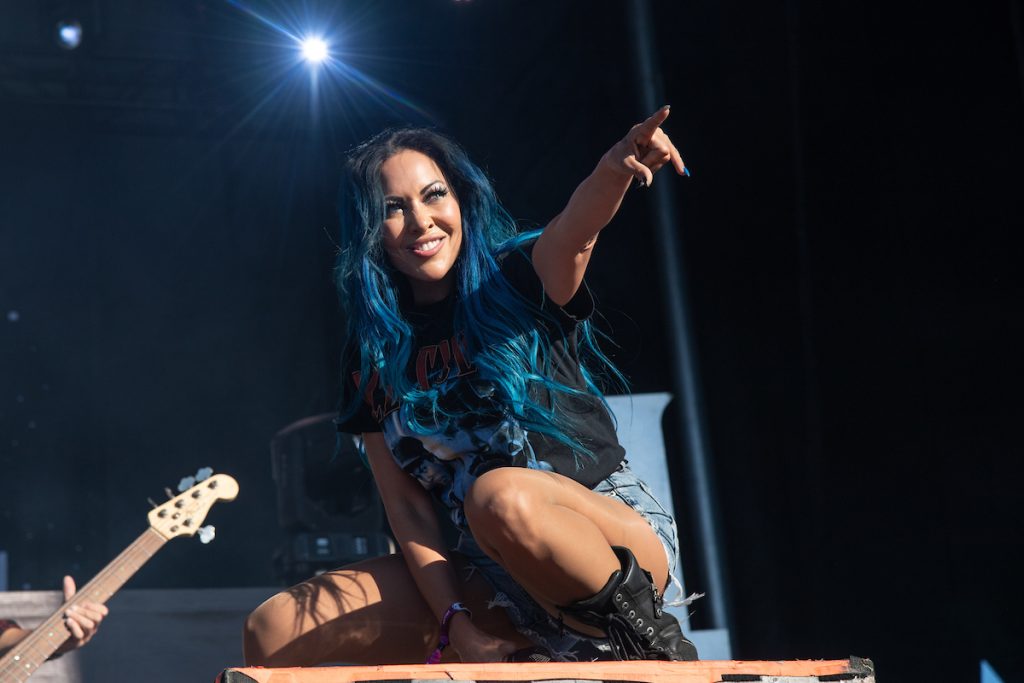 What's your favorite show to binge watch? 
HS: I think we're all on a Vanderpump Rules kick right now. 
There's definitely drama there. 
CH: Yeah, we love it. Charlie is even a bigger Vanderpump Rules fan than anybody, so it's been really fun to watch that. I'm on the last season on Succession. I'm late to the game on that, but I've been enjoying that. I finally got onto Barry. 
HS: Yes! Oh my gosh, you're on Barry now?!
CH: Yes, I just finished the season. 
My latest one has been The Diplomat on Netflix. It has Keri Russell. I remember her from Felicity. 
C+H: Oh yeah!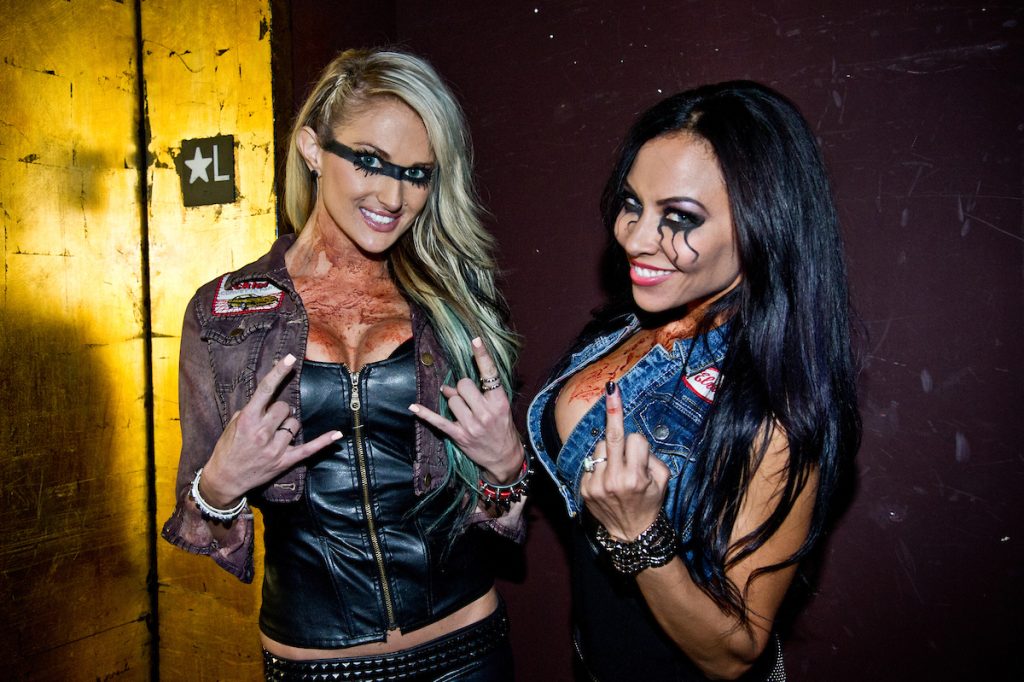 What are your must pack travel items? And how do you keep your hair perfect after doing these headbanging shows? 
HS: Must pack items for me are sheets. I have to have comfortable sheets. If I can't sleep, I can't sing. I'm a fiend for sleep on the road. Any moment I can, I'm in my bunk napping. I definitely bring sheets. Other than that, my other thing that I have to bring when I'm touring in the US is my dog. She doesn't come with us to Europe, but in the US, she's a must pack. 
CH: I think for me, my contact lenses and my nipple covers. You know those little rubber things you put under your clothes. I took my suitcase out to pack and that's what is literally sitting in there right now. Those are the first things I packed, as well as a bunch of rubber bands and some muscle relaxers. So those must be my things I have to pack. I also always bring my iPad everywhere because I can sit there and draw on it during the day and it just helps me relax and not freak out.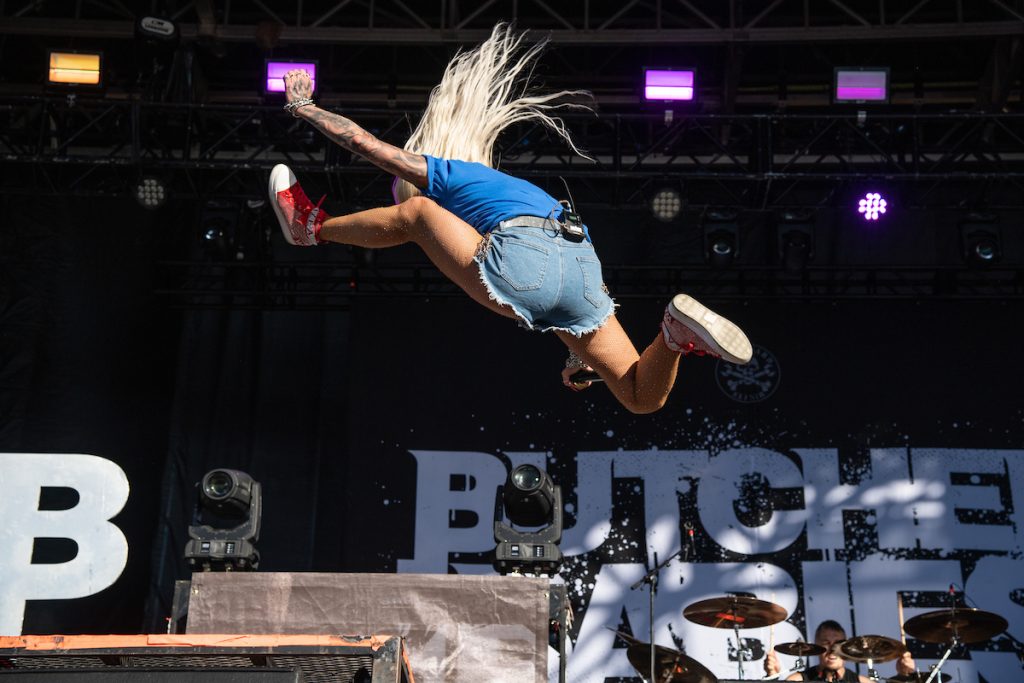 What's the puppy's name?
HS: Toki Wartooth. She's a little malti-poo. She's hilarious and has limited use of her back legs, so she's extra needy. 
Obviously you guys are going to have a big 2023; you have the double album, tour. Anything else you're looking forward to this year? 
CH: I mean, that's a lot to look forward to, right? We haven't released an album in years, so the fact that we're doing two is really exciting. I absolutely love the songs from both albums. I've been listening to them a lot to practice. I've just been listening and listening to try to learn the lyrics and remember the lyrics. It's such a cool plethora of songs. I'm so excited to see what people think and see what their favorites are.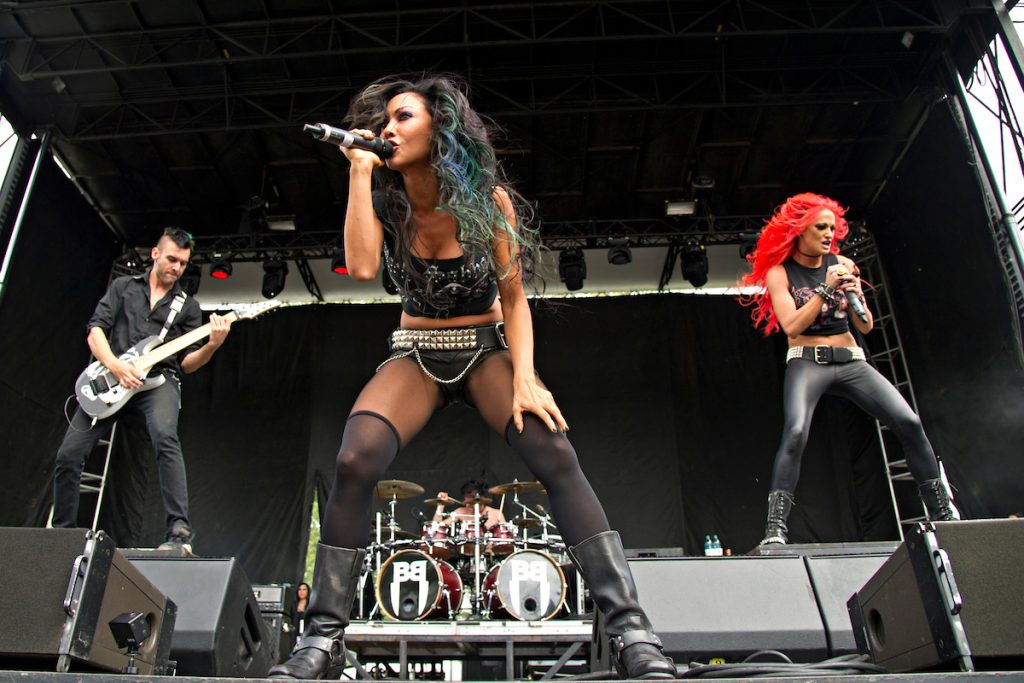 There are a lot of songs. Are you mixing up the setlists during the tours or doing the same sets? 
HS: We will be playing a lot of new songs on these tours. Two of them being "RED THUNDER" and "BEAVER CAGE", that have already come out. Songs like "Bottom of a Bottle" and "Yorktown" and "Sleeping with the Enemy". I think our setlist is more chock full of newer stuff than any older stuff. It's exciting for us. It keeps it fresh and fun. I'm excited to show the world the new side of Butcher Babies. 
Make sure to catch them live on tour this summer when they visit a city near you!