BonnaRoots is a special experience that is a hidden gem right inside CenterRoo Thursday and Friday of Bonnaroo Music and Arts festival.
It is a four-course feast that is an add-on package that can be purchased with your Bonnaroo pass. It is a great value for the multi-course meal and drinks that were included.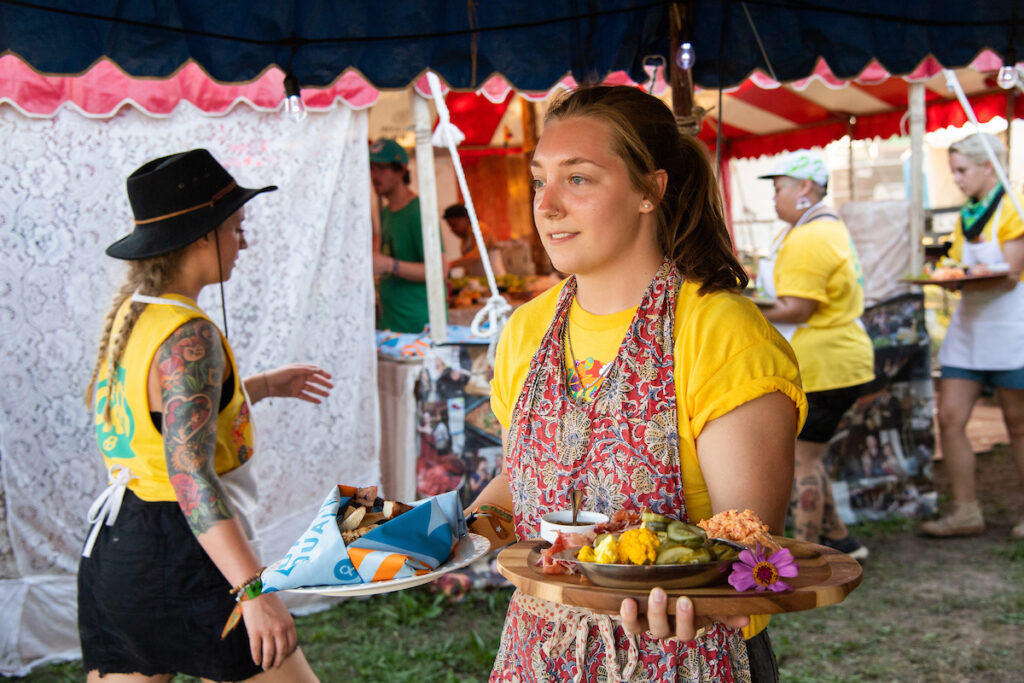 Eat for Equity partners with Oxfam America and Bonnaroo to bring together festivalgoers around an epic shared meal and a common cause. Proceeds from the event go to global hunger charities including the Nashville Food Project.
I have covered Bonnaroo as a freelance photographer for the AP for many years and I have even passed by this communal table experience the past few years and snapped a few pictures of people dining and enjoying a break for dinner before they head out to listen to their favorite bands until the early morning hours but I had never stopped long enough to learn about the dinner until this week.
This year I was able to fully experience the dinner on Thursday evening and enjoy the delicious farm-to-table meal prepared by the volunteer team. The volunteers are artists, nurses, writers, and brand strategists, not seasoned kitchen professionals.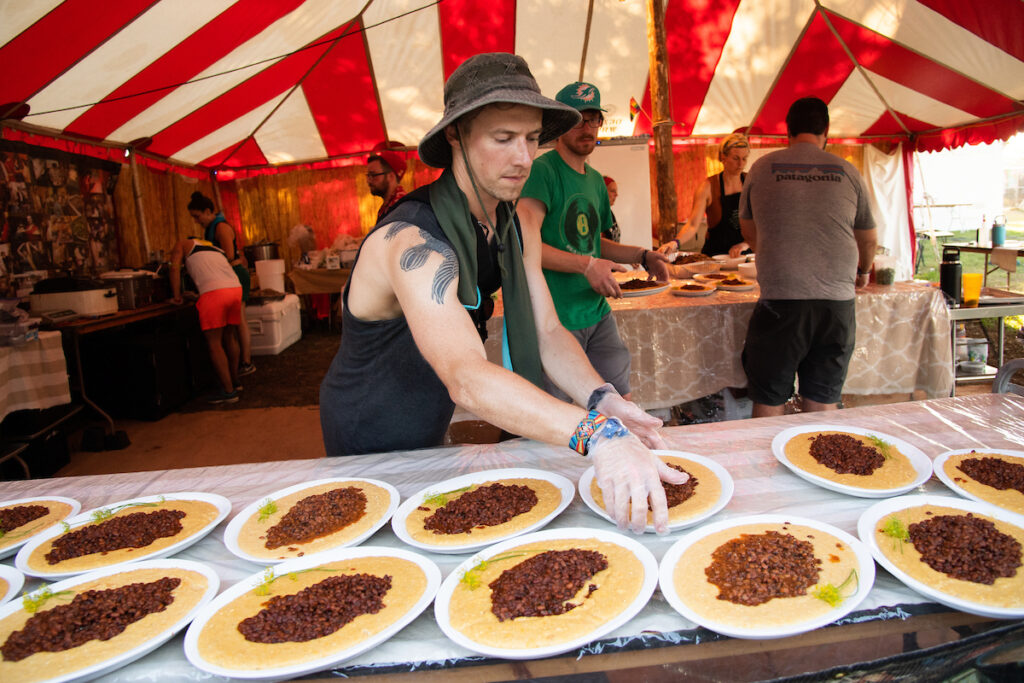 I was able to peek into the pop-up kitchen and was able to see the volunteers grilling meat, stirring large roasters of grits, playing with bread dough, chopping hundreds of pounds of vegetables, making sauces and slaws and making lots of pies
During the dinner at the long communal table, I met people from all over the country who had come together to enjoy the food picks and recipes from some of their favorite musical artists.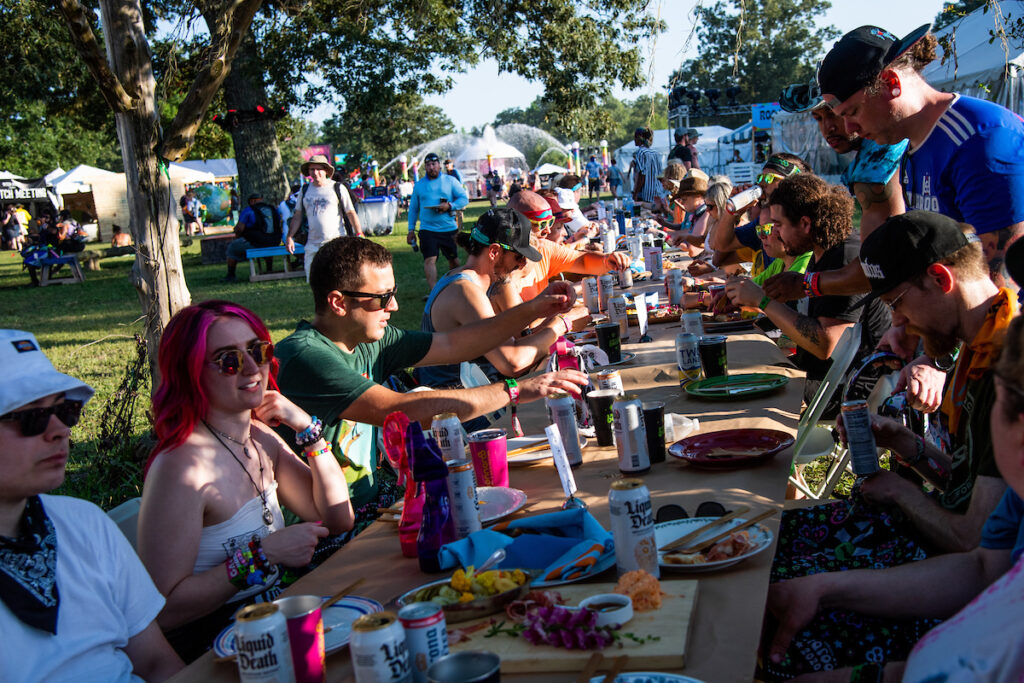 Participants could enjoy a DIY soda bar or a cold beer with their meal as they checked in for the experience.
The menu included dishes Maggie Rose's Greek Dressing for the salad course, Patrick Hallahan's (My Morning Jacket), brown butter grits with pulled pork main course, and Lizzo's recommended favorite banana cream pie. Her exact quote is "This Banana Cream Pie is like F-You Good" and honestly, I agreed with her.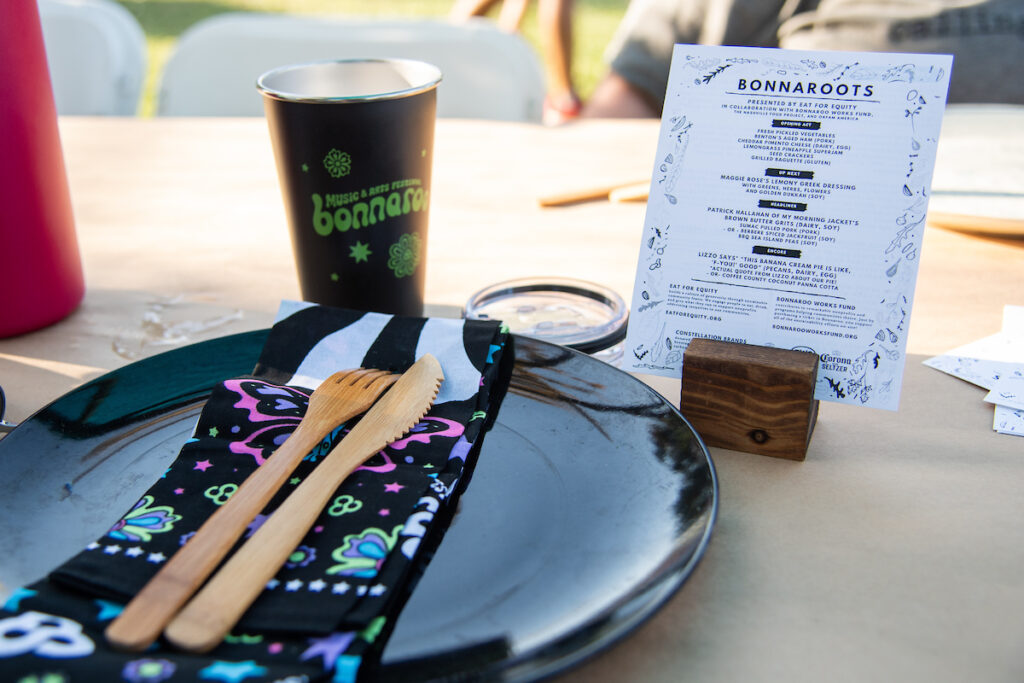 The patrons could also enjoy live music during the meal on the How Stage located in the area.
Link to the recipes and information on how to donate are located here.